Threaded Inserts suit high-volume fastening applications.
Press Release Summary: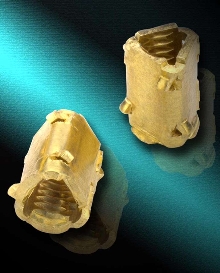 Triangular-shaped, brass DeltaForm(TM) Inserts for plastics offer alternative to traditional inserts or thread-forming screws. Retention barbs facilitate insertion in round holes and prevent spin upon installation. Flange tabs on either end orient insert in hole before installation and form flush surface with plastic component when installation is complete. With thread size of #6-32, inserts are available loose or on carrier strip to accommodate handling requirements.
---
Original Press Release:

DeltaForm(TM) Threaded Inserts for Plastics Economic Alternative to Traditional Hardware


Patented DeltaForm(TM) threaded inserts for plastics introduce an economic alternative to traditional inserts or thread-forming screws in high-volume fastening applications. They can provide reliable and reusable threads at half the price of standard metal inserts and offer twice the torque-out strength of thread-forming screws without the associated cross-threading risks during installation.

A new manufacturing process for these inserts and their unique design features contribute to economies and performance for users.

Instead of conventional screw machines for production, DeltaForm inserts are made in a progressive stamping operation, where they gain their unique triangular shape and strong threads. Among key design features, retention barbs enable easy insertion in round holes and prevent spin upon installation. Flange tabs on either end orient the insert in the hole before installation and form a flush surface with the plastic component when installation is complete. Their brass material eliminates corrosion issues.

DeltaForm inserts in thread size #6-32 are available loose or on a carrier strip to accommodate handling requirements. Installation can be achieved utilizing any one of several techniques, including cold-press, ultrasonic, or heat-stake methods.

Contact Michael J. Rossi, PennEngineering® Fastening Technologies, 5190 Old Easton Road, Danboro, PA 18916-1000. Phone: 800-237-4736 (toll-free in the U.S.) or 215-766-8853; Fax: 215-766-0143. Web site: www.pennfast.com

More from Fasteners & Hardware