Threaded Inserts match clamp force of weld and clinch nuts.
Press Release Summary: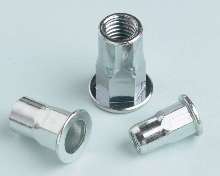 Avdel® Hexsert® blind threaded inserts work with hard and non-ductile materials, as well as thin sheet alloys, plastics, and composites. They are available in M6, M8, and M10 large flange hexagonal steel designs in wide range of protective finishes to improve corrosion resistance. Band annealing process softens wall of insert to provide sufficient ductility for installation while retaining properties of hardened thread region.
---
Original Press Release:

Avdel® High-Strength Hexsert® Blind Threaded Insert Matches Maximum Clamp Force of Weld and Clinch Nuts


TROY, Mich., July 31, 2003 - Textron Fastening Systems, a business unit of Textron Inc. (NYSE: TXT), has introduced the first high-strength blind threaded insert that provides clamp force comparable to weld nuts and clinch nuts in high torque applications.

The new Avdel® high-strength Hexsert® works effectively with hard and non-ductile materials, as well as thin sheet alloys, plastics and composites, or combinations of each. It is the only blind threaded insert that offers such high levels of joint clamp force in tubular steel, hydroformed parts, magnesium castings, and aluminum extrusions.

"Avdel® high-strength Hexsert® reduces capital expenses, requires less space, simplifies assembly, and removes weight from final parts," said Jonathan Watkins, director of product management for Textron Fastening Systems.

"It is the first blind fastener to offer equivalent thread proof load strength to ISO 898 Property Class 10 weld nuts and clinch nuts, and can handle tightening torques commonly applied to Property Class 10.9 and 12.9 screws and bolts in actual applications," Watkins added. "It also creates high-strength threads in thin materials starting at 0.5mm."

What sets these fasteners apart, Watkins said, is a unique band annealing process that softens the wall of the insert to provide sufficient ductility for installation, while retaining the properties of the hardened thread region. If excessive torque is applied, the screw shank fails, not the insert, thus avoiding over-tightening problems such as thread stripping and expensive rework.

Increased thread strength allows higher tightening torques for load-bearing, high clamp-up joints required in structural assemblies, and potentially allows selection of less expensive, smaller screws. Other blind threaded inserts are usually fully annealed and cannot withstand such high tightening torques without the risk of stripping.

Target markets for the new insert include automotive and structural applications where high torque is required for maximum clamp force.

Avdel® high-strength Hexsert® inserts are available in M6, M8 and M10 large flange hexagonal steel designs in a wide range of protective finishes to improve corrosion resistance and appearance. They are installed and retrofitted with standard Avdel® hand tools, as well as multi-head and auto-feed robotic systems.

For more information about Avdel® high strength Hexsert®, call (800) 544-6117 or access avdel.textron.com or www.textronfasteningsystems.com.

Headquartered in Troy, Mich., Textron Fastening Systems is the leading provider of engineered fastening systems, state-of-the-art assembly technology, and inventory management and application engineering services. With 11,000 employees worldwide, Textron Fastening Systems supplies value-added fastening products, systems, and services to customers in nearly 200 countries. For more information, access www.textronfasteningsystems.com

More from Packaging Products & Equipment