Threaded EMI Filters range from 100-12,000 pF.
Press Release Summary: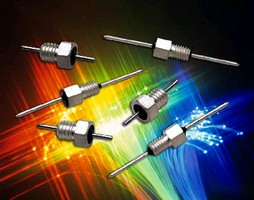 Available with M3 x 0.5 feed-thru circuit and M4 x 0.7 Pi circuit, Metric EMI Filters feature current rating of 10 A, voltage rating of 100 Vdc, and dielectric withstanding voltage of 250 Vdc. Units can be mounted in tapped hole or thru-hole and have hex head dimension across flats of 4.0 mm. Designed with resin sealed case, filters are environmentally protected and suited for signal/data lines, industrial controls, telecommunications, and test equipment.
---
Original Press Release:

New Metric Threaded EMI Filters Available In Feed-Thru and PiCircuits



Fairview, PA - September 5, 2007 - Spectrum Control, Inc. introduces metric threaded EMI filters with an M3 X 0.5 Feed-thru circuit and an M4 X 0.7 Pi circuit. These filters are easily mounted in a tapped hole or thru-hole and have a hex head dimension across the flats of 4.0 mm. The metric threading makes these EMI filters ideal for design solutions in European and Asian markets.

Spectrum's metric threaded EMI filters have capacitance values ranging from 100pF to 12,000 pF, current rating of 10 Amps, voltage rating of 100 VDC and a dielectric withstanding voltage of 250 VDC. The durable resin sealed case provides excellent environmental protection and they are primarily used in filtering signal/data lines, industrial controls, telecommunications, medical equipment and test equipment.

Spectrum Control's metric threaded EMI filters have pricing ranging from $2.00 to $5.00 depending on configuration and quantity, with a lead time of 8 weeks.

About Spectrum Control
Spectrum Control, an ISO 9001 and TS 16949 certified company, designs, manufactures and markets a broad line of EMI/RFI filters and power components, power management systems, microwave components, and sensors and controls.

The Spectrum Control Signal & Power Integrity produces discrete surface mount EMI filters, resin sealed and hermetically sealed EMI filters, EMI filtered arrays, EMI filtered connectors, ESD/EFT protected connectors, filtered data-com connectors, gaskets and shielding, patch antenna elements, single line filters, filtered terminal blocks, power entry modules, power line filters, military/aerospace multi-section filters, and commercial custom assemblies.

Spectrum Power Management Systems produces AC and DC power distribution and remote management systems. Products include off-the-shelf SMART start products as well as customized products or systems designed to suit specific user requirements. DC power circuit breaker and fuse interface panels, power outlet strips and data acquisition modules are also offered.

Spectrum Microwave is a wholly owned subsidiary of Spectrum Control, Inc. and produces a wide range of microwave components and systems. Integrated Microwave Systems include switchable filter banks, low noise amplifiers, local oscillator multipliers, microwave synthesizers, digitally tuned oscillators and integrated assemblies. Microwave Filters include bandpass filters and duplexers, lumped element filters, cavity filters, waveguide filters, tubular filters, base station products and resonators. Frequency Control Components include a wide range of amplifiers, mixers, voltage-controlled oscillators (VCOs) and dielectric resonator oscillators (DROs).

Spectrum Sensors & Controls Precision Positioning Sensors Operation manufactures a variety of precision co-molded conductive plastic potentiometers and position sensors, as well as element segments and cable assemblies. Designs for these potentiometers and position sensors include rotary, motorized, hollow shaft, linear and fader types, as well as custom assemblies. The company's Advanced Thermal Products Operation produces temperature sensing probes and assemblies, PTC and NTC thermistors and resistive temperature detectors (RTDs).

For further product information, contact Janet Justka, EMI Filters and Components, Spectrum Control, Inc., 8061 Avonia Road, Fairview, PA 16415. Phone: 814-474-0326. Fax: 814-474-3110 E-mail: justka@specemc.com Website: www.specemc.com

More from Computer Hardware & Peripherals