Thread Milling Cutter can machine materials up to 55 RC.
Press Release Summary: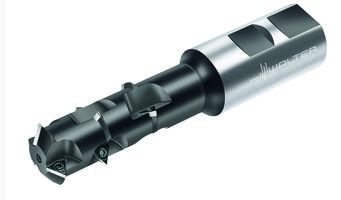 Available in T2711 and T2712 models, Thread Milling Cutter is suitable for machining threads of 1 in. diameter and above. Offering easy-cutting geometry, wear-resistant and universal grade WSM37S, unit is used for thread depths up to 2.5 DN and pitch range of 8-18 TPI for UNC and UNF thread styles. Ideal for ISO P, M, K, S and H, product can machine multiple thread sections.
---
Original Press Release:
New Cutter from Walter Combines the Benefits of Thread Milling with those of Tapping
Excellent thread quality due to smooth operation coupled with high productivity, superior process reliability, and dramatic cost savings are some of the advantages of Walter's new T2711/T2712 thread milling cutter.
Walter has introduced the first thread milling system to combine the advantages of thread milling with those of thread tapping. With Walter's new T2711 / T2712, multiple thread sections can be machined simultaneously with high cutting parameters, enabling machining times comparable to those of thread tapping and forming, to be achieved. In addition to quick machining, users also benefit from the high process reliability of the thread milling process and the cost benefits of an indexable insert tool. The new tool is ideal for machining larger threads with diameters of 1 in. (24 mm) and above.
Together with ease of handling and excellent thread quality, the high level of productivity at low cost per thread due to fast machining (in many cases faster than thread tapping and forming) is a major benefit. In a test involving large-scale crankshaft machining, the new thread milling cutter reduced costs by 60%. Additional benefits of the new T2711 / T2712 thread milling cutter include easy-cutting geometry; wear-resistant, universal grade WSM37S.
The Walter T2711 / T2712 is a universal indexable thread mill for thread depths up to 2.5 DN and a pitch range of 8-18 TPI for UNC and UNF thread styles (1.5-6 mm for M and MF threads). The mill is suitable for ISO P, M, K, S and H. Materials up to 55 RC can be machined. For specials there are virtually no size limits and thanks to Walter Xpress, special tools can be provided with a delivery time of only 3 weeks.
Walter, a global leader in the metalworking industry with over 90 years of experience in precision cutting tools for milling, drilling, turning, boring and specialized tools, helps customers improve process reliability and increase productivity. With Regional Headquarters in Waukesha, WI, Walter markets its competence brands Walter Valenite, Walter Titex, Walter Prototyp and Walter Multiply through a strong network of distributors and field engineers across subsidiaries in the USA, Canada, Mexico, Brazil and Argentina.
Contact:
Walter USA, LLC
N22 W23855 Ridgeview Pkwy West
Waukesha, WI 53188
800.945.5554
Related