Thomson Solution Delivers Smooth, Backlash-free "Horsepower"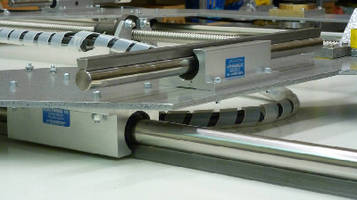 Thomson ballscrew and linear rail bearing assemblies support heavy loads while delivering accurate equine patient positioning for fast and accurate CT scans



WOOD DALE, IL – The EquusCT℠ from Artec Imaging is a patient position and CT scanning table with floating carousel that offers a high degree of maneuverability for veterinarians practicing equine healthcare. EquusCT utilizes a Thomson ball screw assembly and Thomson bearings and shafting rail assemblies to enable a horse's head, neck, front and rear legs to be accurately scanned in any CT scanner, with 2D and 3D diagnostic image output.



"In selecting components for the EquusCT, smooth, backlash-free motion, as well as total weight and drive accuracy, were paramount considerations. The Thomson solution met all of our design criteria, including the need for highly accurate and repeatable motion, and it did so within budget," says Art Gaines, President, Artec Imaging.



The Thomson ball screw assembly moves the EquusCT carousel in a longitudinal direction for a distance of 36 inches. The ball screw is driven by a servo motor that gets it data from an on-board computer; the computer obtains its data from a sensor that tracks the movement of the CT table-top. 



The longitudinal movement and weight of the carousel/carriage/patient is accomplished by riding on two 1 in. Thomson 60 Case® LinearRace stainless steel shafts that are each 84 in. long, with double pillow block bearings. The lateral movement and combined weight of the carousel/carriage/patient is accomplished by riding on four 0.75 in. 60 Case shafts, each 15 in. long and supported by double pillow blocks. The Thomson solution supports total loads up to 3,000 lbs. (1,360 kg) while delivering lateral movement accuracy to +/- 3.0 in. – capabilities that permit ease of patient positioning and accurate anatomical scans for horses and other large animals up to 2,100 lbs. (953 kg).



"The EquusCT is positioned directly over a CT couch for scanning head, neck or limbs without any electrical or mechanical interfacing. It automatically tracks with the CT couch, moving the selected anatomy into the gantry for scanning," explains Gaines. "The EquusCT can be customized to suit any fixed or variable height CT/TOMO scanner. The head, rump, leg supports and IV pole support are secured to the carousel and can be placed around the outer perimeter for optimum patient positioning."



The EquusCT imaging table is used currently in private equine clinics around the world. It is also used in schools of veterinary medicine at the University of Florida, Oregon State University, North Carolina State University, Louisiana State University, Texas A & M University, University of Tennessee, Auburn University, the University of Queensland in Brisbane, Australia, Murdoch University, Perth Australia, the University of Melbourne, Melbourne, Australia, and Charles Sturt University, Wagga Wagga, Australia.  



About Artec Imaging

Artec Imaging incorporated in 1999 as an independent service and equipment provider to hospitals, universities, urgent care clinics, private practice facilities, chiropractors and veterinary clinics. With over 25 years of experience in the medical imaging industry, the company has sold, installed and serviced products from many different suppliers. Artec Imaging provides its customers with a wide array of imaging systems and services for the diagnostic needs of their patients and facilities. Artec Imaging was recently awarded a U.S. Patent for the unique design and diagnostic excellence of the EquusCT scan table.



About Thomson

With more than 60 years of motion control innovation and quality, Thomson is the industry's premier producer of Linear Ball Bushing® Bearings and Profile Rail Bearings, 60 Case® Shafting, ground and rolled Ball Screws, Linear Actuators, Gearheads, Clutches, Brakes, Linear Systems, and related accessories.  Thomson invented the Linear Ball Bushing Bearing in 1945, and has set the standard ever since with an unsurpassed set of mechanical motion control solutions serving global commercial and aerospace & defense markets.  Thomson Industries, Inc. has facilities in North America, Europe and Asia with over 2000 distributor locations around the world.



Thomson, 1500 Mittel Boulevard, Wood Dale, IL 60191-1073; 1-540-633-3549; 1-540-633-0294 (fax); Thomson@thomsonlinear.com;  www.thomsonlinear.com.

More from Packaging Products & Equipment