Thompson Pump Introduces Pump Innovations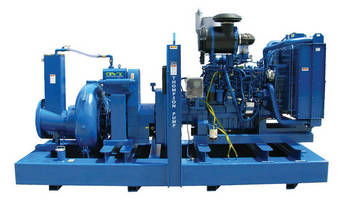 OVT Oil-less Vacuum Technology, the Compact Pump, and Advanced Silent Knight®

PORT ORANGE, FL - Thompson Pump launches multiple revolutionary pump innovations including the new Thompson Pump series with OVT (oil-less vacuum technology) priming system, the Compact pump series, and advanced Silent Knight®.

The groundbreaking Thompson Pump OVT priming system offers multiple improvements to traditional vacuum priming systems. The Compact pump offers all the benefits of the popular Thompson Pump JSC series with the new benefits of a smaller, compact size, lighter weight, fewer parts, less maintenance, and lower price. The advanced Silent Knight® canopy has reduced noise levels by 3-6 dBA over standard sound attenuated canopies.

About OVT

The groundbreaking OVT priming system offers multiple improvements to the traditional vacuum priming system. While both allow for a basic pump to prime automatically, the OVT does this more efficiently with lower maintenance and higher air handling for faster priming. In addition, the OVT system's non-contacting rotors eliminate internal wear which increases longevity and provides the reliability of no decrease in performance over time.

The OVT system offers lower maintenance and operating expenses because the system is dry running - no recirculating oil is needed. Eliminating the oil, in turn, eliminates any possible smoke, mist, or pollution that traditional priming systems may experience - offering a much improved eco-friendly alternative to prior technology. Traditional vacuum priming systems require service every 5000hrs. The OVT priming unit only requires service every 20,000 hrs - which is 4 times less.

Not only does the Thompson OVT system have high vacuum capability with deeper suction lifts of 28.4" Hg - but it also maintains high vacuum at lower speeds. This air cooled priming system has no water levels to check and no cooling system to maintain unlike traditional vacuum priming systems. These capabilities allow the OVT priming system to perform in a variety of applications from sewer bypassing to wellpoint dewatering.

Most interestingly, the Thompson OVT priming system is tolerant to accidental liquid carryover. Prior vacuum priming systems would be destroyed if liquid carried over. In turn, this makes the OVT priming system the most rugged priming system on the portable pump market today. Most importantly, the OVT priming system is warranted for performance.

About the Compact

Thompson Pump introduces the Compact pump series with all the benefits of the popular Thompson Pump JSC series and the new benefits of a smaller compact size, lighter weight, fewer parts, less maintenance, and lower price.

The Thompson Compact pump is 35% smaller and 20% lighter but offers the same great performance as a standard size pump with 24-hour run time fuel tank. Available in the most common diesel-drive portable pump sizes of 4" and 6", the Compact series offers an economical alternative to similar sized portable pumps - a significant savings compared to standard 4" and 6" compressor-assisted pumps.

Reliability is increased by the removal of several redundant parts that are no longer needed with the latest diesel engines. Best of all, Thompson Pump's Compact pump series includes the revolutionary Enviroprime® system - which keeps pumpage from discharging into the environment. The Compact series is available with the most sought after developments such as automatic start/stop and Silent Knight® sound attenuation, among a few.

"Innovative engineering has allowed us to remove unnecessary parts while still maintaining the integrity and performance of this series," said Bill Thompson, President, Thompson Pump. "The Thompson Compact pump is a game-changer."

About the advanced Silent Knight®

The advanced Silent Knight® canopy has reduced noise levels by 3-6 dBA over standard sound attenuated canopies. Additional benefits include added space inside the main compartment, hinged pop-up roof for ease of service, a plug-in float connection, auto-start buzzer and flashing beacon light, and a muffler mounted inside a separate front compartment. Thompson Pump retained the modular drop-on feature of the canopy to allow for after-market availability and easy installation.

About Thompson Pump

Thompson Pump is respected worldwide for its sophisticated heavy-duty lines of high quality pumps, ranging in size from 2 to 18 inches. Thompson Pump sells and rents their entire line of pumps to the areas of public works, municipalities, by-pass, construction, agriculture, dewatering, mining, sewer/lift stations, and water/waste water. Types of pumps engineered and manufactured include wet prime trash pumps; dry prime trash pumps with compressor-assisted or vacuum-assisted priming systems; sound attenuated pumps; utility trash pumps; diaphragm pumps; hydraulic power units with submersible pump ends; rotary, vacuum and piston wellpoint pumps and high pressure jet pumps. With this wide range of pumps, as well as a full complement of accessory hoses and piping, Thompson can offer the proper pump and system for any application. In addition, Thompson provides engineering services and special applications consulting for complicated wellpoint, bypass or multiple pump systems; and offers thorough pump and dewatering education and training through its Pumpology® courses.

Thompson Pump, a family-owned company based in Port Orange, Fla., is celebrating 40 years as a full-service manufacturer and provider of high quality pumps, pumping equipment and engineering expertise for the toughest dewatering, bypass and emergency pumping applications. Since 1970, Thompson Pump has assisted contractors worldwide with pump rental, sale, design, installation and operation. Thompson Pump operates sales, rental and service centers throughout the United States with 20 branches and depots. The company is also aligned with more than 30 distributors in the United States, Canada, and South America. Thompson Pump is a Blue Chip Enterprise Award winner and their products meet the requirements for certification as defined by the Contractors Pump Bureau. Thompson Pump holds numerous product patents along with the registered trademarks of Enviroprime®, Silent Knight®, and Arctic Knight®.

The company achieved ISO 9001-2008 quality certification for their Port Orange manufacturing facility. Thompson Pump is one of only a very few pump companies to have obtained ISO 9001-2008 certification. The globally recognized certification was granted following independent testing and assessment of the company's quality management systems and manufacturing capabilities.

It is common to see Thompson's pumps on some of the largest and most challenging projects in the world. Whether the job requires cleaning up an oil spill in Alaska or the Gulf of Mexico, building a nuclear plant, widening the Panama Canal, controlling floods across the world, handling an irrigation project in Africa or dealing with a tragic disaster in New York, Thompson Pump is there. For more information, call (800) 767-7310 or log onto www.thompsonpump.com.


More from Electrical Equipment & Systems