Thomas Series 2665/2685 Pumps for Air Vending Applications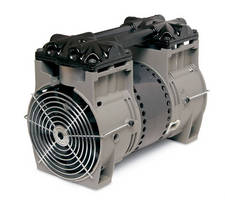 Series 2665/2685 WOB-L® Piston pumps from Thomas are specially designed to stand up to the rigors of use in coin operated tire inflation pumps and other air vending applications. Series 2665 pumps are for use where fan guards are not required. Series 2685 pumps include stainless steel fan guards.

Constructed of light yet rugged die-cast aluminum, Series 2665/2685 pumps incorporate epoxy coated head and valve plates for exterior corrosion protection, and a special PTFE piston seal that remains flexible even in cold temperatures. Stainless steel valves and permanently lubricated bearings further enhance reliability. Oil-less, non-lube piston and cylinders prevent airflow contamination. A pressure relief valve is also included. Thermally protected AC motors are of ultra-reliable permanent split capacitor design. Twin fans provide efficient cooling of the motor and cylinder.

Maximum flow for pumps equipped with 115 VAC 60Hz single phase motors is rated at 3.68 CFM (104.2 LPM). Maximum flow for pumps equipped with 220-240 VAC 50Hz single phase motors is 3.23 CFM (91.5 LPM). All Series 2665/2685 pumps provide up to 100 psi (6.9 bar) of pressure.

Thomas Division, gd-thomas.com, a Gardner Denver Company headquartered in Sheboygan, WI, is a world leader in the design and manufacture of precision engineered compressors and vacuum pumps. Thomas products are found in medical, environmental systems, pharmaceutical equipment, automobiles, business machines, printing presses, packaging machines and vending products, among others. Gardner Denver, Inc. is a leading worldwide manufacturer of reciprocating, rotary and vane compressors, liquid ring pumps and blowers for various industrial and transportation applications, pumps used in the petroleum and industrial markets, and other fluid transfer equipment serving chemical, petroleum and food industries. Gardner Denver (NYSE: GDI) is headquartered in Quincy, IL. For more information, visit the company's Web site, gardnerdenver.com.

More from Software