Thomas Printworks Expands its Offerings with Installation of the Océ Colorado 1640 Printer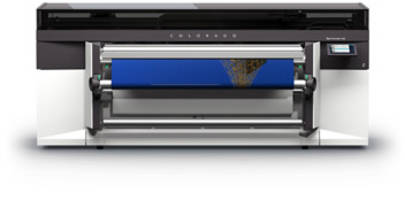 MELVILLE, N.Y., April 30, 2018 – Canon Solutions America, Inc., a wholly owned subsidiary of Canon U.S.A., Inc., today announced that longtime customer Thomas Printworks has added to its robust Océ/Canon fleet with the installation of the Océ Colorado 1640 printer – an acquisition poised to significantly expand its large format print capabilities. The industry-leading roll-to-roll printer was installed at the company's Austin, Texas location.
Operating for over 60 years as a family-owned, full service reprographic firm, Thomas Printworks' Austin location continues to strengthen its omnipresent brand by producing top quality work supported by best-in-class industry professionals. Whether looking for black and white copies, a large-scale banner, or even a full signage suite for new retail space or restaurants, Thomas Printworks can output a diverse variety of applications and offers several options in terms of price, quality, and speed. Equally important to Thomas Printworks' level of success is its commitment to investing in the industry's state-of-the-art equipment that keeps the company at the forefront of print technology. This company-wide commitment was most recently exemplified by its investment in the Océ Colorado 1640 printer, the world's first 64 inch roll-to-roll color graphics device built on Canon's UVgel technology.
Ultimately leading to that buying decision was Thomas Printworks' growing need to increase speeds in its roll-to-roll print production. Additionally, a series of bottlenecks across its wide variety of applications compelled the print leader to turn to longtime collaborator, Canon Solutions America, for an introduction to the Océ Colorado 1640 and its suite of color graphics offerings.
"Speed is critical in our market and for our national base of customers," said Jill Fletcher, location manager at Thomas Printworks. "Since we installed our Océ Colorado, turnaround times, productivity, efficiency, and even reliability have all been positively impacted. As an example, a job that was once taking us 25 to 30 minutes to print can now be completed in under five minutes, and we expect that across the board."
Producing everything from billboard-sized signage to more nuanced, space-efficient banner stands and point-of-purchase prints and decals, Thomas Printworks is known for providing its customers with consistent and vibrant color. With the Océ Colorado 1640 printer, Fletcher confirmed that her shop continues to see zero color variance in their Colorado-produced jobs, adding that the overall color vibrancy, consistency, and quality is second to none.
As is the case with any large format print investment, costs are critical in the buying decision. By allowing customers to experience up to 40% reduction in ink/printing costs compared to other 64" roll-to-roll technologies, the Océ Colorado 1640 printer has allowed adopters like Thomas Printworks to be competitive and profitable while offering high print quality across a wide range of applications without having to significantly compromise productivity by reducing speed.
The versatility of the Océ Colorado 1640 printer is supported by Canon's game-changing UVgel technology, which was designed to provide customers with a vast color gamut, lightfastness, indoor and outdoor usage, high productivity, zero drying time, and low ink usage. This flexibility, coupled with the Océ Colorado 1640 printer's reliable media handling system, helps print service providers to deliver unprecedented large format production efficiency while boosting on-the-fly quality assurance, which facilitates unattended printing and reduced print waste. Additionally, end users can take advantage of a large range of applications, which include:
 
Outdoor Banners
Indoor Point-of-Purchase Signage
Wall Coverings
Floor Graphics
Backlit
 
"Despite breakthrough technology and innovation, the success of the Océ Colorado 1640 printer is dependent upon our customers' experiences and trust in the large format device," added Robert Reddy, senior vice president, Large Format Solutions, Canon Solutions America. "Thomas Printworks is a shining example of how a customer can take full advantage of the scope of possibilities rendered possible by the Colorado, and turn those possibilities into reality."
About Canon Solutions America, Inc.
Canon Solutions America provides industry leading enterprise, production, and large format printing solutions, supported by exceptional professional service offerings. With the technology offerings of the Canon and Océ brands, Canon Solutions America helps companies of all sizes find ways to: improve sustainability, increase efficiency, and control costs in conjunction with high volume, continuous feed, digital and traditional printing, and document management solutions. A wholly owned subsidiary of Canon U.S.A., Inc., Canon Solutions America is headquartered in Melville, N.Y. and has sales and service locations across the U.S. For more information on Canon Solutions America, please visit csa.canon.com
More from Software