Thomas & Betts' Strut Assembly Components Electro-Galvanized Finish Outperforms Competitors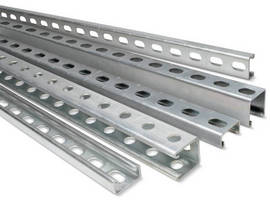 MEMPHIS, Tenn. - Thomas & Betts' Superstrut® strut assembly components are now available with the improved SilverGalv® Electro-Galvanized Finish, which outperforms competitors' painted and pre-galvanized finishes in resisting corrosion and abrasion. Superstrut assemblies made of components plated with the new SilverGalv Electro-Galvanized Finish can be specified in a wider variety of harsh environments, while prolonging the assembly's service life.

The new SilverGalv Electro-Galvanized Finish is applied after fabrication, ensuring that all punched holes and cut ends share a consistent finish with that of the rest of the assembly components. Plating after fabrication also removes all oil and grime that accumulates during manufacturing, providing consistent corrosion resistance, and an excellent bond for paint.

"Installers never need to worry about mismatched strut assembly components again," said Tim Pierce, product manager for Thomas & Betts. "Our new SilverGalv Electro-Galvanized Finish is available in a complete line of channel, hardware, fittings, hangers and pipe straps ensuring that all components have a uniform appearance as well as the industry's best protection from corrosion."

The new SilverGalv Electro-Galvanized Finish surpassed the performance of painted finishes and G90 pre-galvanized plating in the ASTM B117 salt spray tests. The SilverGalv finish forms a cohesive molecular bond between the steel and the zinc, locking out air and moisture that causes corrosion, and resisting chipping and peeling from abrasion and rough handling. The SilverGalv Electro-Galvanized Finish offers a minimum of electrical resistance, so electrical applications are grounded easily when needed.

For more information about Superstrut strut assembly components plated with the SilverGalv Electro-Galvanized Finish, visit www.tnb.com or call (800) 857-5711.

Thomas & Betts Corporation (NYSE: TNB) is a global leader in the design, manufacture and marketing of essential components used to manage the connection, distribution, transmission and reliability of electrical power in industrial, construction and utility applications. With a portfolio of more than 200,000 products marketed under more than 45 premium brand names, Thomas & Betts products are found wherever electricity is used. With headquarters in Memphis, Tenn., Thomas & Betts reported revenues of $2 billion and had approximately 8,750 employees in 2010. For more
information, please visit www.tnb.com.

More from Software