Thomas & Betts Offers Free Merchandising Display Racks for Homac® Connectors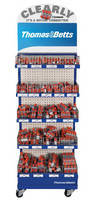 MEMPHIS, Tenn. - Thomas & Betts is offering a free merchandising display rack and a free bonus counter display with a qualifying order of certain Homac® connector products through December 31, 2010.

The merchandising display rack is a two-foot wide (24 inches by 21.5 inches), freestanding gondola on casters, and easily accommodates the 21 Homac Encapsulated Multi-Tap Connector Blocks and Splice Connectors being promoted in the offer. A bonus counter display that promotes the features and benefits of Homac connectors is also included as part of the merchandising promotion.

"This promotion is designed to help our distributors effectively market and sell our broad offering from Homac," said Mike Cawood, Thomas & Betts' product manager. "Product discounts offered in the promotion combined with the free merchandising displays provide more than $750 in value and savings for our distribution partners."

The special merchandising offer requires the purchase of Homac Encapsulated Multi-Tap Connector Blocks and Splice Connectors, which are dual-rated for aluminum or copper wire. The contact components are made from high-conductivity aluminum alloy and encapsulated in clear PVC to provide greater visibility for a safe and accurate connection. These products also are pre-filled with an oxide inhibitor, are rated up to 600 volts, are UL listed and meet or exceed ANSI C119.4 specifications.

Homac connectors feature innovative designs that are developed from solving specific problems posed by customers in utilities, construction, industrial maintenance, repair and operation, and original equipment manufacturing applications. Many of these design innovations have resulted in more efficient installation and enhanced safety in operation. Homac connectors also are subjected to rigorous quality assurance standards.

For a free merchandising display rack, contact a Thomas & Betts sales representative directly or call (800) 326-5282. For more information about Homac products, visit www.homac.com or call (800) 326-5282.

Thomas & Betts Corporation (www.tnb.com) is a leading designer and manufacturer of electrical components used in industrial, construction, communications and utility markets. The company is also a leading producer of heating and ventilation units used in industrial and commercial applications and highly engineered steel structures used for utility transmission. Headquartered in Memphis, Tenn., the company has manufacturing, distribution and office facilities worldwide.

More from Agricultural & Farming Products