Thomas & Betts/Kopex® International (CMG) Highlights Hazardous Area Cable Management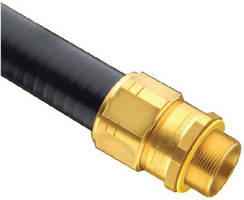 MEMPHIS, Tenn., - Thomas & Betts/Kopex® International (CMG), the world's leading manufacturer of electrical conduit for hazardous environment applications, was part of the Thomas & Betts exhibit at the Offshore Technology Conference (OTC), May 2 to 5 in Houston.

Kopex® International's Kopex-Ex metallic and non-metallic electrical conduit systems are designed for the hazardous environments in the oil and gas industry, such as offshore installations and petrochemical refineries. Among the component parts available from Kopex-Ex are glands, topping plugs, thread converters and accessories, while Kopex-Ex products are compliant with Underwriters Laboratories (UL) in the United States and Canadian Standards Association (CSA) International certification (Class I, Div. 1 and Class II, Div. 2), and the European Union (EU)'s ATEX directives and the International Electrotechnical Commission's IECEx certification (Exe, Exd and Extd), among others.

Based in Coleshill, England, Kopex International was founded in 1947 and manufactures and supplies engineered products for the protection of electrical cables. For more information about Thomas & Betts/Kopex-Ex electrical conduit systems for hazardous environment applications, visit www.kopex-ex.com or e-mail marketing@kopex.co.uk.

Thomas & Betts Corporation (NYSE: TNB) is a global leader in the design, manufacture and marketing of essential components used to manage the connection, distribution, transmission and reliability of electrical power in industrial, construction and utility applications. With a portfolio of more than 200,000 products marketed under more than 45 premium brand names, Thomas & Betts products are found wherever electricity is used. With headquarters in Memphis, Tenn., Thomas & Betts reported revenues of $2 billion and had approximately 8,750 employees in 2010. For more information, please visit www.tnb.com.

More from Electrical Equipment & Systems