This Order for Our Giant Ultra-Maxi Duty Casters Speaks Fluent Awesome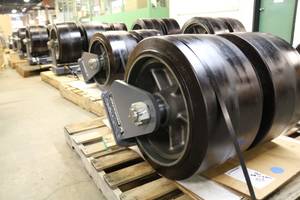 Sure, a picture says a thousand words. But guess what's even better? A thousand pounds - and we've got the pics to prove it. Take a look at this recent order for our Ultra Maxi-Duty (UMD) Casters, which a leading aerospace supplier will be using on stands to support their next generation of products.
With a load rating of up to 40,000 pounds per caster, UMDs represent the highest capacity production caster series on the market today. Each of these wheels is 22" in diameter, and the mounting plate alone is an immense 14" x 14" and 1" thick. With UMDs, there's no need to custom order a special caster - this comprehensive series comes "build-ready." Moving colossal loads that formerly required six or eight casters can be accomplished with four, simplifying designs and lowering maintenance costs. In addition to aerospace manufacturers, UMDs are perfect for defense contractors, ship builders and anywhere you're toting uber heavy equipment.
Capturing these powerful casters on camera makes us feel a little like the fired-up dad of a huge family. It's our pride and joy to create these rare creatures of craftsmanship and durability every day.
So we hope you don't mind if we get a little gushy.
Hamilton Caster
1637 Dixie Highway
Hamilton OH 45011-4041
Phone: 513-863-3300
Url: http://www.hamiltoncaster.com/
More from Material Handling & Storage