Third Party Certification for Sioux Pressure Washers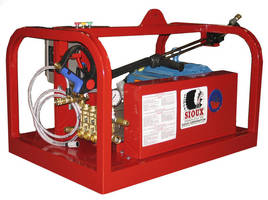 Sioux Corporation's electric motor driven, industrial cold water pressure washers have received third party certification by ETL to UL and CSA safety standards. These units now meet the requirements of UL 1776 and CSA C22.2 #68 safety regulations to meet the requirements of OSHA regulation 1910.399. Additionally, non-explosion proof electric motor driven models meet the requirements of UL508A and CSA C22.2 #14-10.



Sioux is also introducing a new smart model numbering system for the product line. The new model numbers, for example C5.0E5000-60XP, will easily show by the characters the performance of the system. The C signifies it is a cold water pressure washer. The first number (5.0) is the flow rate for the unit in gallons per minute. The next letter will be either E for electric motor, G for gas engine, or D for diesel engine drive. The second number (5000) will be the pressure (PSI). The third number after the dash indicates either 50 or 60 hertz electrical connection. An XP at the end indicates that it is an explosion-proof design for use in Class I, Division 1, Group C and D hazardous environments.



The frames for both the non-explosion proof and the explosion-proof models have been redesigned. The fully welded structural grade steel frames have a durable powder coat paint finish. Non-explosion proof models are mounted on a two-wheel cart for ease of movement. A new cage style frame is used for the explosion-proof models to protect all of the components. Mounting plates in the corners of the cage style frame allow for either bolting the unit down or installing optional insert casters to make the unit portable.



The new design incorporates a V-belt driven triplex plunger pump on all electric motor-driven models. This allows the pump to be operated at lower RPMs than the motor to provide greater reliability and longer life.



Sioux Corporation is the leading designer and manufacturer of application-specific, industrial pressure washers, steam cleaners, water heating and chilling systems, steam generators and related custom equipment. For more information on Sioux's products please call 888-763-8833 or 605-763-3333, or visit www.sioux.com.

More from HVAC