Third Largest Chevy Dealership in the U.S. Reduces Energy Use 74 Percent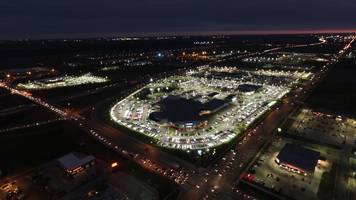 Lighting and Controls Technology from Hubbell Lighting Saves Customers Money
Greenville, SC – March 7, 2017 – Hubbell Lighting, a world leader in lighting innovation, recently completed two lighting and controls installations that demonstrate how it can develop a solution for virtually any application that will ultimately save the end user money.
"Reducing expenses related to lighting has become a much more simplified and effective process," said Jeff Moreau, national accounts manager at Hubbell Lighting. "Between state codes, rebate programs and available design resources from both manufacturers as well as channel partners, organizations are relieved of the burden of specifying their exact needs but rather identify their financial and operational goals."
At 30-acres, Karl Chevrolet in Ankeny, Iowa, is one of the largest single-line Chevrolet dealerships in the United States. Management knew they wanted to replace the legacy 1,000w MH fixtures but needed a proven 1:1 replacement AND a controls solution that was both affordable and compliant with the local utility's program requirements to qualify for a custom rebate. More information on the case study, including a video, is available here: http://www.hubbelllighting.com/newsroom/karl-chevrolet-reduces-energy-use-74-percent-with-hubbell-lighting/.
Karl Chevrolet selected Hubbell Outdoor Lighting's Arceos™ ARA3 fixture, which was designed with automotive dealerships in mind. The fixture is a 1,000w HID replacement with more than 50 percent energy savings, offers three lumen options for design flexibility and backlight control to reduce light trespass.
Lighting controls technology has evolved just as fast as LEDs to offer smarter, more flexible performance of fixtures and provide even greater overall savings. Karl Chevrolet is using Hubbell Control Solutions' wiSCAPE to configure, control, monitor and meter the facility's lighting systems. The wiSCAPE View software empowers facility managers with real-time monitoring, instant alarm notifications from faulty lighting equipment and increased network efficiency and maintenance operations – all from a smartphone or tablet.
Karl Chevrolet expects to achieve:
Annual energy savings of $143,465
A $262,000 rebate from MidAmerican Energy
A 74 percent reduction in energy use when it cuts more than 1.5 million kWh/year
Annual maintenance savings of $11,988
A payback period of 3.4 years
A 33 percent internal rate of return
"If the initial results are indicative of what's to come, the return on this investment in luminaires and controls will be much better than initially predicted," said Shaun Rydl, facilities manager at Karl Chevrolet. "We feel great about our decision to upgrade to LED technology and new lighting controls, especially when we see that waiting would have cost us almost $2M in savings over the next 10 years. Finances and energy savings aside, the appearance of our entire property is simply outstanding at night."
Hubbell, however, isn't just facilitating these money-saving projects for large customers. While the cost of LED technology continues to drop, it's not uncommon to still encounter roadblocks to implementation from a price perspective. This is especially true with smaller businesses that assume they don't have the resources or scale to make LED achievable.
This was one of the sticking points with the owners of Wood's Ace Hardware & Mercantile in Summerville, S.C., and their outdated CFL lamps.
The interior lighting was in desperate need of a renovation and way past due for an overhaul, but the perceived costs of ideal LED products didn't add up for the owners.
Columbia Lighting developed the MPL Megaplane™ industrial LED highbay/lowbay for just this type of application.
A formal payback analysis showcased how the MPL, a low-cost, high-efficiency luminaire with directional luminance that is slender, attractive and functional without appearing bulky, was the perfect solution for Ace, especially when they learned the MPL's patented TIR directional linear optics would offer superior aisle lighting performance in a modern design.
The results:
The annual kWh was cut in half
The owners are expecting to reduce the annual cost of energy by $4,100
The estimated return on the initial investment is expected to be less than three years
By the time the MPL fixtures reach their L80, or 14 years of use, the system will have saved nearly $60,000 in energy savings alone.
"In addition to the ROI, energy savings and lighting performance, we've seen a significant reduction in maintenance costs and aggravation," Kris McLawhorn, operations manager, Wood's Ace Hardware & Mercantile. "Employees are energized and customers are having an easier time finding what they need. And the look of the store is much cleaner, the aesthetics of the MPL are much more pleasing than the old Maglite fixtures. We're really happy with Columbia's MPL."
Visit Hubbell Lighting to learn more about how a lighting and controls upgrade can save your organization money.
Media Contact
Michael McCullough
Director of PR
Hubbell Lighting
About Hubbell Lighting
Hubbell Lighting is elevating the lighting experience. Empowered by lighting solutions that integrate seamlessly into their environment, save energy, provide improved quality of light, deliver return on investment and armed with Hubbell's unflinching support, its customers are able to think differently about how, where, and when they can use light. As one of the largest lighting fixture manufacturers in North America, it features a suite of brands that provide a full range of indoor and outdoor lighting products serving the commercial, industrial, institutional, and residential markets. Learn more at hubbelllighting.com.
More from Software