Thin Panels backlight switches and LCDs.
Press Release Summary: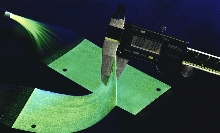 UniGlo® fiber optic panels are 0.013 in. thick and provide durable and uniform panel of light that is free of heat and EMI. Thin panels can be used to backlight membrane switches, LCDs, keyboards, and control panels. With operating temperature range of -40 to +80°C, plastic optical fiber panels are unaffected by extremes in humidity or temperature. They resist shock and vibration. Panels never need replacing and are virtually maintenance-free.
---
Original Press Release:

Plastic Fiber Optic Backlighting Panels from Poly-Optical Are Super Thin


Irvine, CA, May, 2002 - A single-layer UniGlo® fiber optic panel from Poly-Optical® Products, Inc., is a mere 0.013" (.33mm) thick. These extraordinarily thin panels are used to backlight a wide variety of products, including membrane switches, LCDs, keyboards, control panels and many more.

Not only are UniGlo® panels thin, but they also provide a rugged, durable and uniform panel of light that is free of heat and EMI. With an operating temperature range from -40°C to +80° C, plastic optical fiber backlighting panels are unaffected by extremes in humidity or temperature. Shock, vibration and hazardous environments are no problem.

UniGlo® panels never need replacing and are virtually maintenance-free. In membrane switch applications, e.g., these panels have been life tested to over 5 million actuations.

A 3" wide, single layer panel can be lit with one LED as a light source. The new high brightness LEDs now on the market are ideal for use with UniGlo® panels.

When used to backlight LCDs, the UniGlo® panel slides behind the LCD glass and the tail is connected to the LED that is mounted on the PCB. When used to backlight flat panel membrane switch overlays, the super-thin UniGlo® panel is placed between the translucent keyboard overlay and the membrane switch. To backlight a control panel display, the UniGlo® panel is placed directly behind the control panel, illuminating the graphics.

Pricing for UniGlo® panels starts at $0.50-$0.70 per sq. inch in production quantities.

For more information, contact Poly-Optical® Products, Inc., 17475 Gillette Ave., Irvine, CA 92614. Tel: 949-250-8557; Fax: 949-250-1840; E-mail: info@poly-optical.com; Web: www.poly-optical.com

Poly-Optical® Products, Inc. specializes in plastic and plastic optical fiber devices used in a wide range of backlighting and other illumination applications, including membrane switches, keypads, LCDs, light guides, sensors and many others. Poly-Optical® serves the following industries: medical, automotive, computer, security, consumer electronics, industrial controls, spa, military/aerospace, sports and toys. Founded in 1965, the company offers unparalleled technical capability for producing plastic optical fiber devices for the transfer of light, data and images. Poly-Optical® holds 12 U.S. patents and is QS 9000 and ISO 9001 certified.

Poly-Optical Products, Inc., 17475 Gillette Avenue, Irvine, CA 92614. Tel: 949-250-8557; Fax: 949-250-1840; E-mail: popi@poly-optical.com

More from Optics & Photonics