Thin Mini-ITX Computer features rugged all-metal chassis.
Press Release Summary: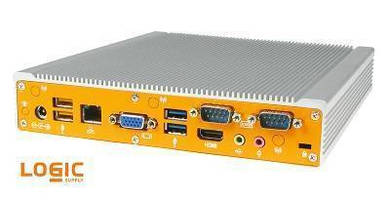 Combining hardened industrial enclosure with Intel Bay Trail Celeron J1900 processor, Model ML210G-10 is suited for use as hardened thin client or data acquisition device. Unit can be configured as server-connected device, requiring no onboard storage, or equipped with up to 1 TB mSATA SSD for standalone operation. Operating from 0~50°C and drawing less than 20 W of power, computer supports up to 8 GB of RAM and provides 4 USB ports, 2 RS-232 COM ports, VGA, HDMI, and LAN.
---
Original Press Release:

New Bay Trail-Powered PC from Logic Supply Offers Highest Performance to Size Ratio



Eye-catching Thin Mini-ITX computer combines industrial connectivity with ruggedly engineered all-metal chassis.



Logic Supply ML210G-10 Back



South Burlington, VT – Following up on the release of their innovative ML400 Series of industrial PCs, Logic Supply (www.logicsupply.com) has added a new ultra-compact, Thin Mini-ITX computer to their lineup of rugged commercial hardware. The new system is ideal for use as a hardened thin client, data acquisition device or as an integral part of any application requiring industrial reliability and power efficient processing.



Logic Supply's ML210G-10 combines a hardened industrial enclosure with powerful Intel Bay Trail processing to achieve a size to performance ratio virtually unmatched in the industry.



"Embedded engineers and project managers are implementing our systems in an incredibly versatile array of applications, powering everything from grocery store kiosks to NASA rovers," said Logic Supply Product Manager JP Ishaq. "In serving such a wide range of technical requirements, we wanted to create a system that was equally flexible from a form factor standpoint while maintaining a high level of computing performance. Like other industrial thin client systems we offer, the ML210G-10 can be configured as a server-connected device, requiring no onboard storage, or equipped with up to a 1TB mSATA SSD for fully-capable, standalone operation."



Featuring an Intel Bay Trail Celeron J1900 processor, capable of easily accommodating HD graphics and other processor-intensive applications, the ML210G-10 draws less than 20W of power, offering a highly energy-efficient alternative to traditional tower PCs and even other power-hungry small form factor solutions.



The ML210G-10 features support for Windows 7 and Windows 8 in both 32 and 64-bit versions, as well as Linux Ubuntu 14.04 LTS 64-bit. The selection of included I/O was designed to accommodate the widest possible range of embedded systems and devices. Onboard connections include 4 USB ports (2 of which are High Current), 2 RS-232 COM ports, VGA, HDMI and LAN. The system supports up to 8GB of RAM and features an operating temperature range of 0°C~50°C.



"When we released our Intel Atom-based AG150 in early 2012 it quickly became one of our most popular systems because of its small size and versatile selection of industrial I/O. It was easy to integrate, simple to connect and filled a distinct hole in the IPC industry," said Logic Supply Engineer Hans Brakeley. "The ML210G-10 takes everything that made the AG150 so appealing and adds Bay Trail processing and expanded OS support, all with a third of the power draw."



For more images, full product details and system specifications, visit http://www.logicsupply.com/ml210g-10/, or call +1 802 861 2300 for more information.



About Logic Supply:

A leading industrial PC company, Logic Supply is powering innovation worldwide. Designing and manufacturing small, rugged computers specifically engineered for harsh environments, the company serves a variety of embedded markets. In addition to its extensive product line, Logic Supply offers custom development for both x86 and ARM-based systems as well as an end-to-end OEM service program. The company has developed a next-generation, fully integrated hardware solution. The result for customers is a true partnership characterized by speed, flexibility and value. Visit the Logic Supply USA website at www.logicsupply.com or EU site at www.logicsupply.eu.



Logic Supply Media Contact:

Darek Fanton

802-861-7443

marketing@logicsupply.com

Related