Thin, Flexible LED Ribbon Lights illuminate hard-to-light areas.
Press Release Summary: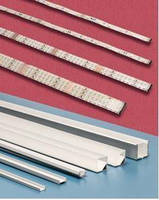 With flexible and diminutive physical contour, 24 V Single, Double, and Triple and Single RGB Premium LED Ribbon Flex Lighting do not have any fixtures and mount via 3M peel and stick double sided adhesive backing. Multiple lengths can run off one power supply via solder-free, end-to-end plug-in, 100% usable connectors for continuous lighting. Along with integrated LED Diamond Light Technology, features include 30,000–50,000 hr bulb life, low heat emissions, and no generated UV radiation.
---
Original Press Release:

Outwater Introduces Its Single, Double, Triple and Single RGB Premium LED Ribbon Flex Lighting and Complementary Aluminum Lighting Channels



Bogota, NJ — Recognized as the most versatile and thinnest LED Ribbon Lights on the market, Outwater's [Outwater Plastics Industries, Inc. + Architectural Products by Outwater, LLC new series of 24-volt  Single, Double, Triple and Single RGB Premium LED Ribbon Flex Lighting, with no fixtures to hide, can be easily mounted by means of incorporated 3M peel & stick double sided adhesive backing in all of those "hard to light" areas, or virtually anyplace that previously could not be lit, and is perfectly suited for illuminating furniture, in or under cabinets, wall units, showcases, displays, toe kicks, cove or cornice accents, or any type of indoor or outdoor application that warrants an almost nonexistent profile.



The highly flexible, diminutive physical contour of Outwater's Single, Double, Triple and Single RGB Premium LED Ribbon Flex Lighting not only enables it to practically vanish within the décor of any environment, multiple lengths can be run off of a single power supply via supplied solder free, end-to-end plug-in, 100% usable connectors for continuous lighting.



In addition, Outwater's ultra energy efficient Premium LED Ribbon Flex Lighting features fully integrated LED Diamond Light Technology to yield the highest color rendering indexes and tightest binning codes for the purest, brightest LED Lighting available, yet consumes only a few watts per field cuttable strip, with an approximate 30,000 to 50,000 hour bulb life, depending on the format chosen.



Furthermore, low heat emissions and no generated UV radiation render Outwater's Premium LED Ribbon Flex Lighting, with its achieved IP65 Rating (totally protected against dust and low pressure jets of water from all directions with limited ingress permitted), safe and ideally suited for a variety of residential and commercial uses.



For those requiring specific colors of lighting in which standard red, green and blue primary colors will not suffice, Outwater's Single RGB LED Ribbon Flex Lighting and newly introduced, IP67 Rated (totally protected against dust and the effect of immersion in liquid between 15cm and 1m) 120-volt LED Ribbon Flex Lighting offer a full spectrum of colors that can be programmed to morph at variable speeds or to remain static as desired.



Outwater's additional LED Ribbon Flex Lighting variants encompass Offset LED (Standard Edge of Light) and Standard 12-volt versions as well as Chasing RGB, RGB with True White, Chasing Solid White and White Chameleon special effects models.



Create your own light fixture!  Outwater also offers lighting designers a vast selection of LED Ribbon Aluminum Lighting Channels in many different shapes and sizes, both with and without snap on impact resistant frosted polycarbonate diffuser lenses, ABS, polycarbonate or aluminum end caps and stainless steel mounting clips in 4-ft., 6-1/2-ft. and 8-ft. profiles for use in a wide range of functions. 



Outwater's Aluminum Lighting Channels are great for dissipating longevity robbing heat from LED Lighting by also functioning as a heat sink, thus prolonging the life and lumen output of the LED's many times over.



A host of complementary accessories comprising different UL Listed power supplies, switches, dimmers, RGB controllers, sensor switches and other peripheral components readily enable a multitude of custom configurations and applications.



Video Link: Outwater's Single, Double, Triple and Single RGB Premium LED Ribbon Flex Lighting 



About Outwater [Outwater Plastics Industries, Inc. +

Architectural Products by Outwater, LLC:



Outwater can be contacted Toll Free at 1-800-631-8375 (For sales and product information in the USA & Canada) / 1-201-498-8750 (For sales and product information outside of the USA & Canada) or viewed online at www.outwater.com.



Outwater was founded as a brick and mortar company in August 1972 on the premise to provide small and midsized furniture and cabinet manufacturers with a reliable source from whom they could purchase plastic extrusions in the amounts that reflected their actual requirements rather than the often substantial minimum quantities that were dictated by numerous manufacturers.



From the vendor of a single product line, Outwater, with sales and distribution facilities in New Jersey and Arizona, is established as an international manufacturer and distributor of more than 65,000 traditional and innovative component products required by woodworkers, cabinet and furniture manufacturers, builders, remodelers, designers, architects, point-of-purchase and display fixturing manufacturers, OEM's, as well as a diversified range of other commercial and retail customers.



Major Product Categories include Plastic & Aluminum Extrusions; Lighting and Lighting Accessories; Furniture, Cabinet & Store Fixture Components; Knobs & Pulls; Casters; Fasteners; Laminates; The Foga Exhibit & Display Fastening System; The Klem Connector; Literature Displays; Slatwall; Sign Holders; P.O.P Components; Display Motors & Turntables; Pedestals; Injection Molded Parts; Brass Tubing & Fittings; Surfacing Materials; Interior & Exterior Polymer & Wood Architectural Mouldings & Millwork; Orac Decor and DEM Architectural Mouldings & Millwork; Columns & Capitals; Balustrading; Wrought Iron Components; Decorative Stamped Steel & Polymer Ceiling Panels; Wainscoting; Wall Coverings; Fireplace Surrounds; Plastic "Glass" Block; Period & Contemporary Hardware; Kitchen & Bath Accessories; Kitchen & Bath Cabinetry and Vanities… and so much more!



Contact:

Joey Shimm, Director of Marketing

Outwater Plastics Industries, Inc. +

Architectural Products by Outwater, LLC

joeyshimm@outwaterplastics.com

(201) 498-8750



Outwater Plastics Industries, Inc. +

Architectural Products by Outwater, LLC



Sales & Product Information (USA & Canada):

1-800-631-8375 / 1-201-498-8750



Fax (USA & Canada): 1-800-888-3315 / 1-201-498-8751



Sales & Product Information (Outside of the USA & Canada):

1-201-498-8750



Fax (Outside of the USA & Canada): 1-201-498-8751



Email: info@outwaterplastics.com



Web: www.outwater.com



New Jersey • Arizona

More from Welding Equipment & Supplies