Thin Films Analysis Systems cover deep UV to NIR measurement.
Press Release Summary: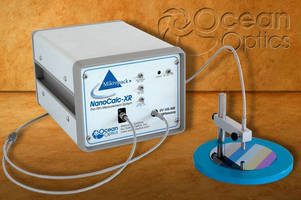 Utilizing spectroscopic reflectometry, NanoCalc systems determine optical thin film thicknesses for semiconductor/medical/industrial applications. Systems are available for range of wavelength, sampling method, and optical layer thickness requirements, from 1.0 nm to 250 µm. There are 4 standard models from 200-1,700 nm which may be combined with software, reflection probes, optical fibers, and various accessories. Preconfigured systems are also available for 400-850 or 250-1,050 nm ranges.
---
Original Press Release:

Ocean Optics Launches NanoCalc Precision Thin Films Analysis Systems



MUMBAI -- Ocean Optics' (www.oceanoptics.com [http://www.oceanoptics.com ]) NanoCalc systems utilize spectroscopic reflectometry to accurately determine optical thin film thicknesses for consumer, semiconductor, medical and industrial applications. Customer-designed and new application-ready preconfigured NanoCalc models make it easy to select the optimum system for deep UV to NIR wavelength measurement needs.

NanoCalc systems are available for a range of wavelength, sampling method and optical layer thickness requirements (from 1.0 nm to 250 microm). Users can select among four standard models between 200-1700 nm and combine them with software, reflection probes, optical fibres and various accessories. For applications in the Visible (400-850 nm) or UV-Visible (250-1050 nm), users have the added convenience of selecting preconfigured systems comprising the NanoCalc, a reflection probe and sampling stage, a calibrated Si-SiO2 5-step reference wafer and software that analyses up to 10 optical layers.

For more demanding applications, NanoCalc systems are available with an extensive range of add-on software, optical fibres and metrology accessories such as mapping stages and adapters for microscopes and micro-spot focusing objectives.

NanoCalc systems are especially useful for applications such as transmission and reflection measurements of anti-reflective and hardness coatings, amorphous silicon on solar panels, OLED displays, determination of photoresist layers for photomasks and testing the optical properties of optical coatings.

Custom NanoCalc systems are also available, offering additional user control for in situ, multipoint or vacuum measurements. Users have flexibility in their choice of fibre assemblies or reflection probes. Also, users can control NanoCalc functions from other software or operate mapping stages with software add-ons including remote, online, mapping and multi-layer options.

About Ocean Optics

Headquartered in the USA, Ocean Optics is a leading supplier of solutions for optical sensing - fundamental methods of measuring and interpreting the interaction of light with matter. With locations in Asia and Europe, the company has sold more than 100,000 spectrometers worldwide since 1992. Ocean Optics' extensive line of complementary technologies includes chemical sensors, analytical instrumentation, optical fibres, thin films and optics. The company is a subsidiary of Halma p.l.c.

About Halma

Halma plc [http://www.halma.com ] is an international market leader in safety, health and sensor technology. A public company listed on the London Stock Exchange, it has over 4000 employees in 40 subsidiaries worldwide. Halma's subsidiaries make products that protect lives and improve the quality of life for people through innovation in market leading products which make its customers safer, more competitive and more profitable.

These subsidiaries are assisting India's economy in areas such as manufacturing, energy, water and waste treatment, the environment, construction, transport and health.

For further news about Halma in India and to subscribe to the Halma India RSS News Feed please visit our news blog [http://halmapr.com/news/india ].

Website: www.halma.com [http://www.halma.com ]

Primary Media Contact: Mr Kuniyur J. Srinivasan, Srini@halma.com, 91-22-67080400

Secondary Media Contact: Damian Corbet, dcorbet@halmapr.com, 91-1494-789152

More from Architectural & Civil Engineering Products