Thin Film Resistor Networks are hermetically sealed.
Press Release Summary: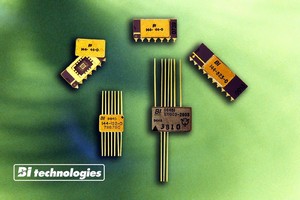 Offered in through hole DIP and surface mount packages, thin film resistor networks feature resistance range from 10 to 1 M, with absolute tolerances to less than 0.05% and ratio tolerance to less than 0.01%. TCRs are less than 25 ppm/XC with TCR tracking to less than 5 ppm/XC. Available with hot solder dip, tin-lead plate, and gold plate finishes, units meet MIL-STD-883, MIL-STD-1835, MIL-PRF-38534, MIL-STD-38510, and MIL-STD-202 standards.
---
Original Press Release:

BI Technologies Develops Hermetically Sealed Thin Film Networks for High Reliability Applications



October 30, 2007

Thin film resistor networks tolerant to extreme environmental conditions

FULLERTON, CA (October 30, 2007) Providing design engineers with a series of high reliability resistor networks, TT electronics BI Technologies Electronic Components Division has developed a series of hermetically sealed thin film resistor networks. Offered in through hole DIP and surface mount packages, the networks meet a number of military qualifications.

The thin film resistor networks are hermetically sealed in nitrogen-filled package cavities, making them immune to outside atmospheric conditions associated with device failures, said Mike Torres, fixed film product manager for BI Technologies Electronic Components Division. Along with excellent absolute and ratio tolerances, the construction of the networks makes them ideal for military and aerospace applications.

The hermetically sealed networks are approved to MIL-STD-883, MIL-STD-1835, MIL-PRF-38534, MIL-STD-38510 and MIL-STD-202 qualifications.

The thin film resistor networks feature a resistance range from 10 to 1M, with absolute tolerances to less than "0.05% and ratio tolerance to less than "0.01%. TCRs are less than "25ppm/XC, with TCR tracking to less than "5ppm/XC ("1ppm/XC available). The networks are available with hot solder dip, tin-lead plate and gold plate finishes.

Typical pricing for the thin film resistor networks is $35 each in quantities of 50 pieces, with a minimum order quantity of one piece. Lead time is from 12 to 14 weeks.

For more information about BI Technologies thin film resistor networks, contact BI Technologies at 714-447-2518, by fax at 714-388-0046; by mail at 4200 Bonita Place, Fullerton, CA 92835; or visit: http://www.bitechnologies.com/pdfs/BI_short_form_catalog_customnetworks.pdf.

BI Technologies has been an innovator and leader in electronic components for more than 50 years. The company is a global manufacturer of trimming and precision potentiometers, position sensors, turns-counting dials, chip resistor arrays, resistor networks, integrated passive networks, transformers, inductors, hybrid microelectronics and custom integration products for communication, computer, automotive and industrial applications.

BI Technologies serves a global customer base with manufacturing locations in the United States, Mexico, Scotland, Japan, China and Malaysia.

TT Electronics plc is a global electronics company manufacturing a broad range of advanced electronic components, assemblies and sensor modules for the automotive, industrial, telecommunication, computer and aerospace markets.

Keywords: TT electronics, BI Technologies, thin film resistor networks, hermetically sealed

URL: http://www.bitechnologies.com/pdfs/BI_short_form_catalog_customnetworks.pdf

For more information, contact:
Mike Torres, Fixed Film Product Manager
BI Technologies ECD
1-714-447-2457
miketorres@bitechnologies.com

More from Computer Hardware & Peripherals