Thin Film Precision Chips resist sulfur and moisture.
Press Release Summary: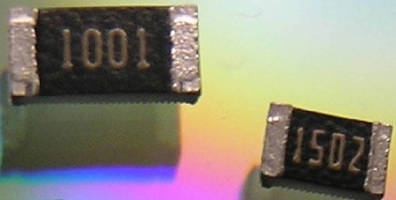 With protected nichrome element, RNCS-AS Series performs well in high humidity environments. Termination material and design minimize effects of sulfur, yielding parts that are reliable under variety of environmental conditions. AEC-Q200 qualified resistors are suited for applications requiring precision and accuracy in unpredictable operating conditions such as outdoor controls, security and surveillance, instrumentation, and test equipment.
---
Original Press Release:

RNCS-AS Thin Film Precision Chips are Sulfur and Moisture Resistant



RALEIGH, NC – Stackpole has developed a series of thin film precision chip resistors that are resistant to the effects of both sulfur and moisture. Typically thin film nichrome resistors have difficulty withstanding high humidity environments under low power. Stackpole's proprietary materials and processing protects the nichrome element and performs as well under high humidity testing as much more expensive technologies such as tantalum nitride film chips.



In addition, resistors that have printed palladium silver inner terminations are susceptible to contamination by sulfur causing resistors to open. Stackpole's unique termination material and design minimize the effects of sulfur yielding a part that is ultimately extremely robust and reliable under a wide variety of environmental conditions.



The RNCS-AS Series is AEC-Q200 qualified and is a good choice for applications requiring precision and accuracy under unknown or unpredictable operating conditions such as outdoor controls, security and surveillance, instrumentation, and test equipment.



Pricing for the RNCS-AS Series varies with size, resistance value, tolerance, and TCR. Contact Stackpole or one of our franchised distributor partners for specific pricing.



For more information about Stackpole products, contact Stackpole Electronics, Inc. at 2700 Wycliff Road Suite 410, Raleigh NC 27607; phone 919-850-9500; email marketing@seielect.com; or visit the website at www.seielect.com.



Stackpole Electronics Inc. is a leading global manufacturer of resistors. Headquartered in Raleigh, N.C., the privately held company began manufacturing in 1928 as part of Stackpole Carbon Company in St. Mary's, Pennsylvania. Now part of the Akahane Stackpole Manufacturing Group, Stackpole has facilities in Japan, Taiwan, China, the US and Mexico.



Editor Contact Information

Kory Schroeder

Director of Marketing

Stackpole Electronics Inc.

919-875-2495

kschroeder@seielect.com

Related