Thin Film MELF Resistors enable precise current measurement.
Press Release Summary: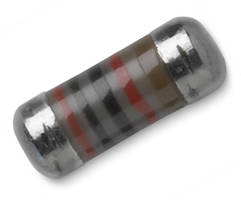 Supplied in 0204 and 0207 case sizes, respectively, Models MMA 0204 and MMB 0207 offer extended resistance range down to 0.22 Ω with tolerance of ±1%, low TCR of ±50 ppm/K, and power dissipation to 1 W at +70°C. RoHS-compliant devices provide intrinsic sulfur resistance and overall stability that exceeds class 0.25. Operating from -55 to +155°C, AEC-Q200-qualified resistors allow precise current measurement in LED lighting, industrial, automotive, and renewable energy applications.
---
Original Press Release:
Vishay Intertechnology's Professional Thin Film MELF Resistors Provide High Stability and Reliability for Precise Current Measurement in Lighting, Industrial, and Automotive Applications
Devices Feature Extended Resistance to Lower Ohmic Values < 1 Ω, Tighter Tolerance, and Low Temperature Coefficient

MALVERN, Pa. — Vishay Intertechnology, Inc. (NYSE: VSH) today announced that it has extended its AEC-Q200-qualified Professional Thin Film MELF resistors to tighter tolerance in the low-ohmic range below 1 Ω for the 0204 and 0207 case sizes. In addition to providing a low temperature coefficient, the improved Vishay Beyschlag MMA 0204 and MMB 0207 allow for more precise current measurement in LED lighting, industrial, automotive, and renewable energy applications with high stability and reliability requirements than previous-generation devices.

Built on an advanced metal film technology, the devices released today offer an extended resistance range down to 0.22 Ω with tolerance of ± 1 %, low TCR of ± 50 ppm/K, and rated power dissipation to 1 W at +70 °C. The professional thin film MELF resistors, available in 0102, 0204, and 0207 case sizes, feature a robust design, intrinsic sulfur resistance, and excellent overall stability that exceeds class 0.25.

The MMU 0102, MMA 0204, and MMB 0207 provide proven reliability for current sensing in DC/DC conversion and pulse-width modulation in LED drivers, solar inverters, industrial electronics, and battery management systems for electric and hybrid vehicles, in addition to telecom and medical equipment. The devices are backed by Vishay's more than 30 years of experience developing thin film MELF resistors.

Suitable for processing on automatic SMD assembly systems, the lead (Pb)-free devices are RoHS-compliant, halogen-free, and Vishay Green.

Device Specification Table:
Part #MMU 0102MMA 0204MMB 0207Case size010202040207Resistance range (Ω)0.22 to 2.21 M0.22 to 10 M0.1 to 15 MTolerance (%)± 5; ± 2; ± 1; ± 0.5± 5; ± 1; ± 0.5± 5; ± 2; ± 1; ± 0.5TCR (ppm/K)± 50; ± 25± 50; ± 25± 100; ± 50; ± 25Rated dissipation P70 (W)0.30.41.0Operating voltage (V)150200350Operating temp. range (°C)-55 to +155

Samples and production quantities of the MMU 0102, MMA 0204, and MMB 0207 are available now, with lead times of six to eight weeks for larger orders. Pricing for U.S. delivery only starts at $0.10 per piece.

Vishay Intertechnology, Inc., a Fortune 1000 Company listed on the NYSE (VSH), is one of the world's largest manufacturers of discrete semiconductors (diodes, MOSFETs, and infrared optoelectronics) and passive electronic components (resistors, inductors, and capacitors). These components are used in virtually all types of electronic devices and equipment, in the industrial, computing, automotive, consumer, telecommunications, military, aerospace, power supplies, and medical markets. Vishay's product innovations, successful acquisition strategy, and "one-stop shop" service have made it a global industry leader. Vishay can be found on the Internet at www.vishay.com.

Link to Datasheet: http://www.vishay.com/ppg?28713  (MMU 0102, MMA 0204, MMB 0207 - Professional)

Vishay Contact:
Andrew Post
Senior Manager,
Global Communications
Vishay Intertechnology, Inc.
Telephone: 1 610 251-5287
Fax: 1 610 889-9429
Email: andrew.post@vishay.com

Follow Vishay:
http://twitter.com/vishayindust    http://www.facebook.com/VishayIntertechnology
Related