Thin Film Deposition System offers configuration flexibility.
Press Release Summary: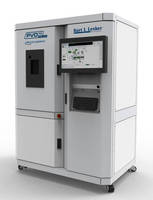 Available for magnetron sputtering, electron beam evaporation, and thermal evaporation, 2017 PVD75 PRO Line Thin Film Deposition System Platform affords scientists configurability to meet unique requirements. Users can choose such options as HiPIMS and pulsed DC sputtering, high temperature (up to 1000°C) heating options, ion assisted deposition, zero footprint clean room installation, glove box interface, and smart system monitoring and control.
---
Original Press Release:

New PVD75 PRO Line Thin Film Deposition System Platform from Kurt J. Lesker Company®



Detail: Jefferson Hills, PA.   Kurt J. Lesker Company is proud to introduce the 2017 PVD75 PRO Line Thin Film Deposition System Platform. The 2017 PRO Line Series builds upon the successes of the workhorse PVD75 that has been updated to bring new and exciting innovations to the PVD marketplace. As always the PRO Line PVD75 is available for magnetron sputtering, electron beam evaporation, and thermal evaporation, but the 2017 PRO Line has been redesigned so that the user can achieve true personalization while "designing" their system. Scientists can configure the system to meet their unique requirements by selecting from the multitude of standard options possible with this tool. They can choose leading edge options such as HiPIMS and pulsed DC sputtering, high temperature (up to 1000 deg C) heating options, ion assisted deposition, zero footprint clean room installation, glove box interface, and "smart" system monitoring and control. Despite its enhanced options, the 2017 tool will be priced below the previous version of our PRO Line system.



Since its initial launch the PVD Series has been the workhorse of our line of deposition systems, with over 1500 systems in the field.  Kurt Lesker's 2017 PRO Line will become the cornerstone of any research effort.  Go to www.lesker.com/go/2017-PVD75 for more information.



The Kurt J. Lesker Company (KJLC), founded in 1954, is a global manufacturer and distributor of vacuum components and systems for the high- and ultra high vacuum equipment market.



For more information contact:    salesus@lesker.com

www.lesker.com 800.245.1656  or   412.387.9200

More from Controls & Controllers