Computer and Communication Terminals
Thin Client offers 3 modes of operation.
Press Release Summary: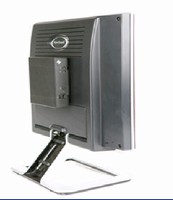 Weighing less than 1 lb and running on 4.4 W, The Rabbit provides eight 5250 sessions, session windowing, audio In and Out, 4 USB ports, and mouse hot spots. It supports 122-key keyboard, 802.11b/g USB wireless, and 3 modes of operation, including Text mode, Windows-based Terminal mode, and Desktop mode. SNMP-based management software is included. Environmentally friendly unit requires no ventilation, and is optimized to work as Green Screen Terminal replacement.
---
Original Press Release:

BOSaNOVA Announces "The Rabbit" a Smaller, Faster, Cooler Thin Client



Phoenix , AZ - January 31, 2006 - BOSaNOVA, Inc., the market leader in development and delivery of Thin Clients and Network Appliances announces today the addition of a new thin client, The Rabbit, to their already extensive product line.

"Our new thin client fills a niche for those businesses looking for a high performance, low-cost option," says Martin Pladgeman, President of BOSaNOVA, Inc. "The Rabbit is 200% faster, 30% smaller, takes less than half the power, and runs 30 degrees cooler than the other "Mini" or Turtle shell type thin clients."

The Rabbit thin client offers increased performance in a compact package. This next generation thin client which is assembled in the USA weighs less than 1lb. allowing for flexible mounting options and lower shipping cost. The unit runs so cool no ventilation is required. And this environmentally friendly thin client runs on little power, only 4.4
watts.

The Rabbit is optimized to work as a 'Green Screen' Terminal replacement. It is designed to be easier to install than other Ethernet terminal on the market with the features and flexibility of a thin client. The quick setup requires no more than three entries and the 5250 sessions are ready and working, no mouse required.

Key Features of the Rabbit Thin Client include:
Quick Setup
Award-winning emulation
Eight 5250 sessions
Co-Exist with RDP / ICA
Session Windowing
122 key keyboard support
Mouse Hot Spots
802.11 B/G USB Wireless Support
Audio In & Out
4 USB ports
LCD VESA Mounting Bracket (optional)
Text mode, Windows based terminal mode and Desktop mode
SNMP based management software always included at no charge
3-year advanced exchange warranty standard

BOSaNOVA's line of thin clients offers users increased security, lower maintenance and support costs, and the industry's highest MTBF.

The Rabbit is available now for purchase through BOSaNOVA's resellers. The base price of $395 (manufacturer's suggested retail price) includes a comprehensive three-year advance exchange warranty, technical support, and software updates. For sales information contact BOSaNOVA, Inc. toll-free at (866) 865-5250, send e-mail to: [email protected], or visit gorabbit.net.

About BOSaNOVA, Inc.
BOSaNOVA, Inc was created in 2003 as an independent spin off from Better On-Line Solutions and is headquartered in Phoenix, Arizona. BOSaNOVA is pioneering the development of enterprise-class thin client and network appliance solutions for LINUX, XP, and CE.Net. BOSaNOVA is an Advanced level member of IBM's PartnerWorld for Developers, Citrix Business Alliance Partner, and member of Microsoft's Windows Powered Program. For more information, visit www.bosanova.net.