Thin Client Computer is ACP-certified.
Press Release Summary: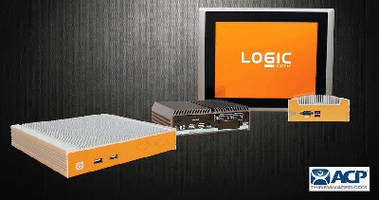 Powered by Intel Quad-Core processors and pre-loaded with ACP-enabled BIOS, TM100 ThinManager® Ready System is completely fanless and ventless, protecting hardware from damage due to dust and other airborne debris. Compact thin client computer is designed for space constrained applications and is capable of handling complex computing tasks. Dual GB Ethernet, 5 USB ports, dual HDMI, and RS-232 port enable versatile connectivity to wide range of systems.
---
Original Press Release:

Logic Supply Reveals Full Line of ACP Certified Thin Client Computers



With a range of small form factor systems, including industrial panel PCs, the company now offers fanless ThinManager® Ready systems designed for virtually any application.



SOUTH BURLINGTON, Vermont -- With the release of their TM100 compact Thin Client PC Industrial and Embedded computer manufacturer Logic Supply (www.logicsupply.com) now offers a full line of ACP certified ThinManager® Ready systems that give thin client users a state-of-the-art, highly-reliable, fanless virtualization solution with short lead times and locally-based sales and support.



Logic Supply ACP ThinManager Line

The TM100 joins the TM200, TM300 and TM400 in Logic Supply's line of ACP certified hardened thin clients. Each system is completely fanless and ventless, protecting the hardware from damage due to dust and other airborne debris.



"All of our hardware is built with reliability front of mind, and that focus drove the creation of these industrial thin client systems," said Logic Supply Market Development Manager Beth Hill. "These PCs will give ThinManager users a dependable computing platform that also offers a slew of features seldom seen a thin client, from enhanced processing capabilities to specialized I/O options. We engineered these systems to be the most flexible thin clients on the market."



Powered by Intel Quad-Core processors and pre-loaded with an ACP-enable BIOS, the Logic Supply ThinManager hardware line includes the following models:



The TM100 is a compact thin client computer designed for space constrained applications that still require a capable computing platform. Capable of handling complex computing tasks that would challenge other thin client systems, the TM100's fanless and ventless industrial enclosure protects it from dust and other airborne debris. Dual GB Ethernet, 5 USB ports, dual HDMI and an RS-232 port enable highly versatile connectivity to a wide range of systems.



The TM200 is capable of easily accommodating MultiSession, system shadowing and dual display applications while consuming less than 20 watts of power. The super thin industrial fanless and ventless design enhances system longevity and enables silent operation. Onboard industrial I/O includes USB, RS-232 COM, VGA and HDMI, providing connectivity for a range of equipment and peripherals.



The TM300 is a ruggedized system which features an extended operating temperature range of -20°C ~ 70°C for installation in the most challenging industrial environments. With an unparalleled compliment of I/O, the TM300 is able to interface with virtually any modern or legacy equipment to enable effective virtualization in a wide range of industrial applications.



The TM400 thin client panel PC is built on the Cincoze Crystal Line (video), featuring their patented Convertible Display System which combines reliable, bright touchscreen displays with removable PC or display modules. The Convertible Display System allows a single display to function as either an all-in-one panel when equipped with a PC module, or a secondary display when configured with a Cincoze display module. This unique modularity enables simple maintenance and upgrading, as well as out of the box multi-screen capabilities.



For more information, view the entire Logic Supply ThinManager hardware line here, or call +1 802 861 2300 to speak with one of the company's Solution Specialists.



About Logic Supply:

A leading industrial PC company, Logic Supply designs rugged, highly-configurable computers specifically engineered for reliability. In addition to its extensive product line, the company offers custom product development and an end-to-end OEM service program. Logic Supply serves a variety of industrial and embedded markets and has offices in the US, the EU and Taiwan. The company provides a next-generation hardware solution that offers customers speed, dependability and value. Visit the Logic Supply website at http://www.logicsupply.com/.



Media Contact:

Darek Fanton

35 Thompson St.

South Burlington, VT

802-861-7443

marketing@logicsupply.com



Related