Thickness Gauge measures non-magnetic and insulating coatings.
Press Release Summary: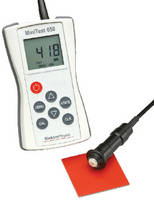 Featuring backlit display and 1 m sensor cable, MiniTest 650 is available with magnetic-induction sensor for measurements on steel substrates, eddy current sensor for measurements on non-ferrous metals, or dual sensor for measuring on both steel and non-ferrous metals. One-pole sensor is made of wear-resistant carbide material to ensure virtually unlimited life cycle under normal conditions. Via USB interface, gauge can be connected to PC for online measurements or display of statistics.
---
Original Press Release:

MiniTest 650 Rugged Coating Thickness Gage



The battery-operated gage features a backlit display and a one meter sensor cable. The newly developed one pole sensor is made of a wear-and-tear resistant carbide material to ensure a virtually unlimited life cycle under normal condition use.

An optimal ram - and impact - protection is provided through the rubber rimmed casing. Via an USB interface, the MiniTest 650 can be connected to a PC for on-line measurements or display of the statistics.

MiniTest 650 is available in three different models:

with a magnetic-induction sensor for measurements on steel substrates

with an eddy currents sensor for measurements on non-ferrous metals

with a dual sensor for measuring on both steel or non-ferrous metals

Special feature of the FN model:

Its dual sensor identifies the substrate material. Upon contact with the surface, the gage automatically switches to the suitable measuring principle based on your application. The measuring principle conforms to the DIN, ISO, BS and ASTM norms and standards.

Designed for durability and high-precision, MiniTest 650 is the ideal tool for any measuring task in the finishing industry.

The rugged and easy-to-handle thickness gage combines extended mechanical life on the one hand and high accuracy on the other hand to meet the requirements of any professional user in the shipbuilding, automotive, bridge building, construction or other industry.

According to model, MiniTest 650 is suitable to measure:

any non-magnetic coatings such as paint, enamel, chrome and zinc on steel

any insulating coatings on non-ferrous metals such as paint, anodizing, ceramics on aluminum, copper, zinc die-cast, brass, etc

More from Software