Thickness and Dimensional System uses IR measurement.
Press Release Summary: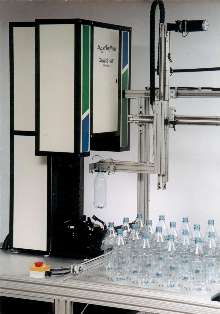 Gawis with AutoFeed(TM) (Gawis AF(TM)) provides repeatable measurement of variables that affect container performance. Non-contact, automated laboratory device performs container and preform quality assurance testing. Gawis AF permits multiple laboratory tests to be performed in 1 operation and provides hands-free testing of up to 20 containers or 72 preforms. Unit includes automatic bottle-feeding system, infrared thickness measurement system, and automatic centering device.
---
Original Press Release:
Agr* TopWave LLC Introduces GAWIS with AutoFeed(TM) Laboratory System for Plastic Containers
Agr*TopWave LLC announces the availability of the Gawis with AutoFeed(TM) (Gawis AF(TM)) automated thickness and dimensional system for plastic containers and preforms. Gawis AF is a non-contact laboratory device designed to provide accurate, repeatable measurement of variables that are crucial to container performance. Gawis AF offers a totally automated approach to the tedious task of container and preform quality assurance testing. The Gawis AF permits a number of vital laboratory tests to be performed in one operation, including comprehensive measurement of container sidewall, heel and shoulder thickness, body profile measurements in multiple locations, finish dimensioning, height, lean and pushup. When equipped with the proper fixtures, Gawis AF can be used for preform measurement as well. Gawis AF eliminates the need for multiple devices and individual tests, resulting in considerable savings in time and increased laboratory throughput. The Gawis AF is ideal for quality control inspection of newly formed containers, incoming inspection of purchased containers, and evaluation of container designs in the development laboratory. Benefits of this system include: o Hands-free testing of up to 20 containers or 72 preforms o Accurate, non-contact thickness and dimensional measurements o Repeatable measurements, regardless of operator experience and skill o Significantly reduced laboratory time devoted to thickness and dimensional measurements o Automatic record keeping, including statistical report generation o Improved productivity of laboratory personnel The Gawis AF incorporates a number of superior features including an automatic bottle-feeding system for increased throughput and walk-away operation. With the autofeed feature, up to 20 bottles or 72 preforms can be loaded onto the autofeed tray, systematically tested and results documented. Once a test sequence is initiated, the Gawis AF requires no operator intervention to test a series of bottles or preforms, freeing lab personnel for other tasks. Additional features incorporated into the Gawis AF include Agr*TopWave's infrared thickness measurement system. This is the heart of the Gawis AF and provides comprehensive non-contact thickness measurement over the entire body of the container, including the heel and shoulder region. An advanced optical system, using a high-resolution, camera provides dimensional measurement for container or preform sidewall and finish. A robust drive-positioning system and automatic centering device are provided for placement accuracy during automated operation. Gawis AF will handle a wide range of PET bottle sizes and shapes including filled containers up to 3 liters. A full range of thickness and dimensional measurements can be performed on empty PET containers. By removing the light tube, dimensional measurements can also be performed on filled containers. This feature is ideal for determining dimensional shifts as a result of the filling process or material creep. Agr*TopWave, LLC develops and manufactures a full line of laboratory and on-line testing/quality control devices for plastic containers and similar products. Agr*TopWave's headquarters and main manufacturing facility is located in Butler, PA USA. Agr*TopWave is a division of Agr International Inc. For further information contact: David Dineff, Product Marketing Director Agr*TopWave LLC, Butler, PA, USA. Phone +1 (724) 482-2163 or email ddineff@agrintl.com.