Thick Film Chip Resistors feature long side terminations.
Press Release Summary: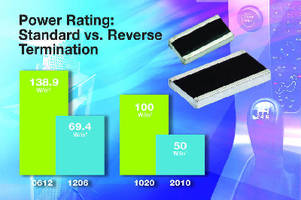 Available in 0612 and 1020 case sizes, Models RCWE0612 and RCWE1020 provide power ratings to 1 W and 2 W, respectively. AEC-Q200-qualified, surface-mount, wraparound chip resistors offer low resistance values from 0.01–0.976 Ω, tolerance down to ±1%, and TCR of ±100 ppm/°C, ±200 ppm/°C, and ±300 ppm/°C. Devices are optimized as current sensing resistors and shunts in DC/DC converters, voltage regulation modules, and inverters in cell phones, computers, air conditioners, and heat pumps.
---
Original Press Release:

New Vishay Intertechnology Thick Film Chip Resistors in 0612 and 1020 Case Sizes Offer Four Times the Power Dissipation of Devices in Comparable Footprints



With Power Ratings to 2 W, Latest Additions to RCWE Series Save Space and Lower Component Counts



MALVERN, Pa. — Vishay Intertechnology, Inc. (NYSE: VSH) today announced that it has extended its RCWE series of thick film surface-mount wraparound chip resistors with new devices in the 0612 and 1020 case sizes. Featuring long side terminations, the Vishay Dale RCWE0612 and RCWE1020 provide four times the power dissipation of standard devices in equivalent 1206 and 2010 footprints, saving space and reducing component counts in telecommunications, computer, industrial, and consumer applications.



The long side terminations of the RCWE0612 and RCWE1020 provide a shorter path for heat dissipation to the PCB, allowing them to provide enhanced power ratings to 1 W and 2 W, respectively. In addition, their construction reduces the coefficient of thermal expansion (CTE) mismatch with the PCB, which increases reliability by reducing the possibility of solder joint cracks resulting from thermal cycles.



The AEC-Q200-qualified devices offer extremely low resistance values from 0.01 Ω to 0.976 Ω, tolerance down to ± 1 %, and TCR of ± 100 ppm/°C, ± 200 ppm/°C, and ± 300 ppm/°C. They are optimized as current sensing resistors and shunts in DC/DC converters, voltage regulation modules, and inverters in cell phones, computers, disc driver motor controls, air conditioners, and heat pumps.



Samples and production quantities of the RCWE0612 and RCWE1020 are available now, with lead times of six to eight weeks for large orders. Pricing for U.S. delivery starts at $0.12 per piece in 10,000-piece quantities.



Vishay Intertechnology, Inc., a Fortune 1000 Company listed on the NYSE (VSH), is one of the world's largest manufacturers of discrete semiconductors (diodes, MOSFETs, and infrared optoelectronics) and passive electronic components (resistors, inductors, and capacitors). These components are used in virtually all types of electronic devices and equipment, in the industrial, computing, automotive, consumer, telecommunications, military, aerospace, power supplies, and medical markets. Vishay's product innovations, successful acquisition strategy, and "one-stop shop" service have made it a global industry leader. Vishay can be found on the Internet at www.vishay.com.



http://twitter.com/vishayindust

http://www.facebook.com/VishayIntertechnology

More from Mechanical Components and Assemblies