Thermowells & Protection Tubes
Thermowells offer various material and design options.
Press Release Summary: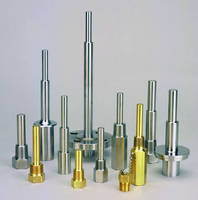 Used to protect temperature sensor and production process, Palmer thermowells conform to size and design of sensor to maintain accuracy and response time while withstanding harsh process conditions. Various materials are available, and products may be custom designed to requirements. Variety of configurations, manufactured from standard or exotic materials, is also available, and testing services are offered to ensure thermowell can meet any challenge that may arise.
---
Original Press Release:

Palmer Instruments, Inc. Announces the Expansion of Its Line of Thermowells



Asheville, NC – Palmer Instruments, Inc. announces the expansion of its line of thermowells.  Used to protect both your temperature sensor and your production process, high quality Palmer thermowells conform to the size and design of your sensor to maintain the accuracy and response time, while standing up to the harsh conditions of your process. Available in a wide variety of materials, Palmer Thermowells have been proudly Made in the USA for over 70 years.  Using our unsurpassed expertise, we produce a wide variety of standard designs to fit into your process to protect your temperature sensors.  Because our machined wells are built in our factory, we have complete control of the production process – let us engineer a custom design to meet your requirements.  Our attention to detail enables us to produce precision wells to fit your chosen sensor, allowing us to build to meet your needs and specifications.  Palmer offers thermowells in a large variety of configurations, manufactured from high quality standard or exotic materials for all applications. Testing services are available to ensure that your thermowell can meet any challenge that may arise.  An ISO 9001:2008 Certified Manufacturer, we take great pride in producing the finest thermowells right here in our Asheville, NC plant ensuring our processes result in a top quality product.  Combined with our available Digi-Stem Meters or any of our precision products, we can assist you in selecting the optimal temperature solution for your process to provide years of reliable performance. 



Palmer Thermowells are available worldwide from Palmer Instruments, Inc. and its international distribution network.



For additional information please contact us at

[email protected]

or call 1-800-421-2853, fax 828-658-0728. Write to Palmer Wahl Instrumentation Group, 234 Old Weaverville Road, Asheville, NC 28804. Visit our web site at www.palmerwahl.com.



About Palmer Wahl Instrumentation Group

Palmer Wahl Instrumentation Group, with more than 176 years of continuous product innovation, started as America's first thermometer company in Cincinnati, OH in 1836.  Since that time, Palmer Instruments has steadily evolved through product development geared exclusively towards industrial process measurement, test and calibration. Operating from a modern facility in Asheville, NC since 1987, and acquiring Wahl Instruments, Inc. in 1997, Palmer Wahl Instrumentation Group is uniquely qualified to provide application/technical support, calibration services and product selection from an extensive line of the finest instrumentation products.  For more information, visit www.palmerwahl.com.