Thermoset Composites handle heavy load-bearing applications.
Press Release Summary: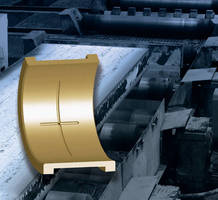 Designed for load-bearing applications in ships, metal-rolling mills, and off-road construction equipment, BR60 and BR70 laminates perform under continuous water exposure without loosing strength. They consist of multiple piles of heavy-weight canvas cloth saturated with phenolic resin system, modified disulfide, which provides internal lubrication to reduce frictional heat generation and wear of metal shafts on bearing. Composites will not seize to metal shafts or score them.
---
Original Press Release:

Norplex-Micarta Announces BR60 and BR70 Laminate Series



Norplex-Micarta Announces BR60 and BR70 Laminate Series

POSTVILLE, IA, USA - Norplex-Micarta, the leading manufacturer of high performance thermoset composites, announces its BR60 and BR70 laminate series. With the highest load capacities of any bearing material, these composites are specifically designed for heavy load-bearing applications in ships, metal-rolling mills, and off-road construction equipment.

The load-bearing properties of these laminates are better than those of high-performance thermoplastics and equivalent to those of brass and bronze. But unlike these metal options, the high performance thermoset composites will not seize to metal shafts or score them, speeding up bearing replacement and reducing equipment downtime and cost of replacement. In addition, this laminate series will performs under continuous water exposure without loosing strength.

The BR60 and BR70 laminates consist of multiple piles of heavy-weight canvas cloth saturated with phenolic resin system, modified disulfide, which provides internal lubrication to reduce frictional heat generation and wear of metal shafts on the bearing. The pre-preg piles are then laminated under heat and pressure to produce the thermoset composite material.

About Norplex-Micarta

Norplex-Micarta is the leading manufacturer of high performance thermoset composites. Norplex-Micarta's vast product line serves power generation, military/aerospace, oil & gas, medical device, electrical, electronics assembly, construction, heavy industry, and transportation markets throughout Europe, Asia/Pacific, and The Americas. Norplex-Micarta is located at 665 Lybrand Street, Postville, IA 52162; Tel: 563-864-7321; Fax: 563-864-4231; E-mail: info@norplex-micarta.com; Web: www.norplex-micarta.com.

For more technical information, contact:
Alan Johnson, Director of Business Development
NORPLEX-MICARTA
665 Lybrand Street
Postville, IA 52162 USA
TEL: +1 563-864-4275;
FAX: +1 563-864-4231
EMAIL: ajohnson@norplex-micarta.com