Thermoset Composite provides wear resistance.
Press Release Summary: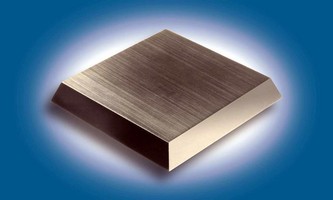 MC844G pure black thermoset composite features flexural strength of 20,000 psi, 48,800 psi compressive strength, and maximum operating temperature of 130°C. Constructed of black paper substrate and black phenolic resin, material is designed for architectural and construction applications requiring pure black surface. Composite develops patina with age and use, and can be used in functional and decorative parts for musical instruments.
---
Original Press Release:

Norplex-Micarta's New MC844G Provides Wear Resistance In a Pure Black Thermoset Composite



POSTVILLE, IA - Norplex-Micarta announces MC844G, a pure black thermoset composite that provides superior wear resistance. The material is constructed from a high quality black paper substrate and a black phenolic resin, making it ideal for a variety of architectural and construction applications that require a pure black surface. MC844G can also be used in various functional and decorative parts on musical instruments, such as guitar finger boards and bridges, and develops a patina with age and use. Additionally, MC844G is easy to machine.

MC844G has a flexural strength of 20,000 psi at elevated temperatures, and a compressive strength of 48,800 psi. Its maximum operating temperature is 130°C.

Norplex-Micarta phenolic resin - paper substrate composites are available in a variety of combinations, and can be modified to change the finished properties of the final laminate. These combinations yield cost-effective products with excellent thermal and electrical insulation properties, machining qualities, and outstanding performance in a wide range of applications.

###

About Norplex-Micarta
Norplex-Micarta is the leading manufacturer of high performance thermoset composites. Norplex-Micarta's vast product line serves power generation, military/aerospace, oil & gas, medical device, electrical device, electronics assembly, construction, heavy industry, and transportation markets throughout Asia/Pacific, Europe, and
The Americas. Norplex-Micarta is located at 665 Lybrand Street, Postville, IA 52162; Tel: 563-864-7321;
Fax: 563-864-4231;
Email: info@norplex-micarta.com;
Web: www.norplex-micarta.com.

For more technical information, contact:
Alan Johnson, Director of Business Development
NORPLEX-MICARTA
665 Lybrand Street
Postville, IA 52162 USA
TEL: +1 563-864-4275; FAX: +1 563-864-4231
EMAIL: ajohnson@norplex-micarta.com


More from Communication Systems & Equipment