Thermoplastic Elastomer suits disposable gloves.
Press Release Summary: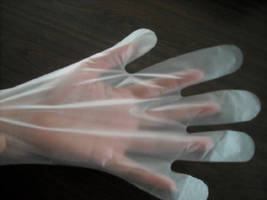 Manufactured by cast film extrusion, Maxelast® D Series Grade D01-0421 is latex- and phthalate-free, non-toxic and odorless, and compliant with FDA food contact grade standards. Material softens and shapes to user's hands when worn. Weighing 0.09 oz per piece and available in thicknesses of 0.03-0.04 mm, gloves made from Maxelast TPE are suited for food service applications, emergency treatment, lab testing, and electronics manufacturing.
---
Original Press Release:

New Maxelast Cast Film Extruded TPE Grade Developed Expressly for Disposable Gloves



Versatile, and Softens and Shapes In Use to Become More Comfortable

ROMULUS, MI - With the goal of eliminating the shortfalls of disposable PVC, PE and rubber gloves used in many industries, a new Maxelast® TPE (thermoplastic elastomer) has been formulated to offer numerous superior benefits. Polymax Maxelast TPEs are sold exclusively in North America by Alliance Polymers & Services LLC (APS).

APS will send a free sample pair of gloves to qualified inquirers.

Among the benefits of new Maxelast D Series grade D01-0421 for disposable gloves are:

Easy to manufacture by cast film extrusion

Latex and phthalate free

Non-toxic and odorless

Compliant with FDA food contact grade standards plus meet RoHS, PAHs and REACH standards

More comfortable than PVC or PE gloves

Lighter weight and thinner (0.09 ounces per piece and thicknesses of only 0.03 - 0.04 mm, respectively)

Actually turns softer and shapes to a user's hands when worn

Silent - no noise caused by friction

Typical uses for these breakthrough cast film extruded gloves made from Maxelast TPEs include, but are not limited to, food service applications, medical, emergency treatment, nursing care, lab test, food processing, and electronics, medical products and general manufacturing.

This grade is available and can be shipped in sizes from bags to gaylords.

Alliance Polymers & Services, LLC (APS) in Romulus, MI, is a full service warehousing, distribution, shipping and technical service organization dedicated to helping TPE, TPU and other elastomer marketers and processors with all their product and technical support needs. The firm currently markets and supports Polymax Maxelast® TPEs and BASF Elastollan® TPUs. APS is unique in that they offer elastomer materials in quantities large and small (from truckloads down to drums and bags). APS is owned and operated by three of the industry's leading marketing and technical support executives, Roger J. Huarng, Stephane Morin and Ron Sheu, formerly with BASF Corporation. They work with a series of independent technical agents located in key cities and markets throughout the North American Continent.

For more information on the new Maxelast D 01-0421grade of TPEs for cast film extruding disposable gloves and a free sample pair, contact: Marketing Department, Alliance Polymers & Services LLC, 30735 Cypress Road, Suite 400, Romulus, MI 48174. Tel: 734-710-6700. Fax: 734-7106715. Web: www.apstpe.com. Email: sales@apstpe.com.

More from Controls & Controllers