Thermoplastic Compound withstands high temperatures.
Press Release Summary: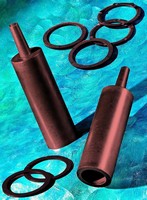 Blending together VICTREX® PEEK(TM) polymer, Celazole polybenzimidazole (PBI), and carbon fiber reinforcement, TF-60C compound delivers levels of strength, modulus, and creep suited for applications in semiconductor/electronics industries. This melt-processable thermoplastic performs in applications requiring physical property retention and wear resistance at temperatures up to 572°F.
---
Original Press Release:

New Victrex T-Series Compound Delivers Enhanced Performance at High Temperatures



West Conshohocken, PA - (July 30, 2007) - Victrex, a leading manufacturer of high performance materials, has introduced a new VICTREX T-Series compound called TF-60C, a proprietary blend of VICTREX® PEEK(TM) polymer, Celazole* polybenzimidazole (PBI) and carbon fiber reinforcement. Featuring one of the best overall property profiles of any high performance material, the new carbon fiber product delivers high strength, high modulus, low creep and is ideally suited for the most demanding applications in the semiconductor/electronics industries including soldering tools, cassettes, wafer transportation and chamber parts in spin coating, etching and PVD.

According to Mark Maddern, Global Product Manager, at Victrex "Introducing the TF-60C compound demonstrates Victrex's continued commitment to manufacture premium high performance polymers to solve market demands for higher temperature and wear performance." Currently, VICTREX T-Series products are the highest performing melt processable thermoplastics for use in applications requiring physical property retention and wear resistance at elevated temperatures. Offering excellent mechanical performance at high temperatures up to 300°C (572°F), they are an ideal replacement option for metals and non-melt processable high temperature plastics such as polyimides. Adds Maddern, "T-Series products require no secondary processing. And, they can be recycled, improving molding yields."

Key features of the TF-60C compound include excellent high temperature resistance, compressive strength, and excellent tensile and flexural performance. "When compared to other high temperature plastics, T-Series products offer a number of advantages," said Maddern. "They boost the thermal range, especially under load, up to 260°C/288°C (500°F/550°F). In addition, they offer higher strength, excellent tribology, very low creep, low coefficient of friction and are melt processable." Other features include excellent tribology and resistance to a range of extreme environments that degrade most plastics.

Victrex USA Inc., a division of Victrex plc, is the sole manufacturer and supplier of VICTREX PEEK polymer worldwide. For more information on the properties and performance advantages of VICTREX PEEK polymer, please call (800) VICTREX or visit the Victrex website at www.victrex.com

More from Communication Systems & Equipment