Thermoplastic Bearing Housings are corrosion-resistant.
Press Release Summary: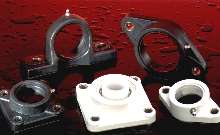 Dimensionally stable bearing housings are offered in pillow block and 2- and 4-bolt styles in 204, 205, 206, and 207 sizes. They can be equipped with metal or plastic insert bearings with bore sizes from ½ to 1½ in. (12 to 50 mm). Made of solid PBT thermoplastic polyester, they offer tensile strength of 17,300 psi. Able to be cleaned or hosed down with hot water, housings operate at temperatures up to 280°F and are suitable replacements for cast iron housings.
---
Original Press Release:

Ultra-Strong, Corrosion-Resistant Thermoplastic Bearing Housing Family Now Offered by Jilson


A wide selection of ultra-strong, dimensionally stable thermoplastic bearing housings is now available from The Jilson Group, Inc. They are offered as pillow block, 2-bolt and 4-bolt styles in the popular 204, 205, 206, and 207 sizes, and can be equipped with either metal or plastic insert bearings.

Standard size insert bearings with bore sizes ranging from 1/2 in. to 1-1/2 in., or 12 mm to 50 mm, are available from stock for use in Jilson thermoplastic housings.

The Jilson housings are made of high-grade, solid PBT thermoplastic polyester, and are excellent replacements for conventional cast iron housings in many applications. With a tensile strength of 17,300 psi, they provide a strength and durability not found in other plastic housings. Additionally, they can be cleaned or hosed down with hot water and will operate at temperatures up to 280°F.

Unlike cast iron housings, the Jilson housings never need plating or coating and will not peel or chip; the PBT thermoplastic material is corrosion proof.

Jilson can supply the thermoplastic housings with or without insert bearings. The housings accept standard size metal and plastic insert bearings, as well as plastic insert bushings. Jilson plastic insert bearings are available with either plastic, glass or stainless steel balls.

Industries which use corrosion-resistant, non-magnetic bearing housings and insert bearings are: food processing, canning, bottling, pharmaceutical, packaging, paint, dye, textiles, exercise equipment, marine, automotive, photo processing, appliance and chemical processing.

For maximum corrosion resistance, or where non-magnetic qualities are important, Jilson thermoplastic housings with Jilson plastic insert bearings are recommended.

For additional information, contact Steve Becher, The Jilson Group, Inc., Bearing Products Division, 20 Industrial Road, Lodi, NJ 07644-2608. Phone: 800 969-5400 or 973 471-2400. Fax: 973 471-3993. Email: info@jilson.com. Website: www.jilson.com.

Caster Products Division o Bearing Products Division o Packaging Products Division

More from Electronic Components & Devices