RTD, Thermistor and Thermocouple Thermometers
Thermometer uses Type K or Type J thermocouples.
Press Release Summary: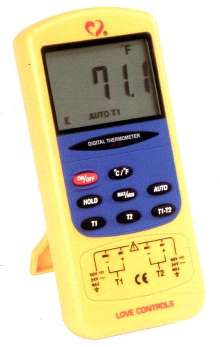 Model LHT20 Digital Hand-Held Thermocouple Thermometer has 2 ANSI Standard mini-jack connectors allowing for wide variety of probe styles. It measures in degrees F and degrees C, with display resolution in whole degrees or tenth degree increments. Unit can display T1, T2, or differential (T1-T2). Auto power-off conserves battery life. Model LHT20 is suitable for use in laboratories, factories, and shops.
---
Original Press Release:
Love Introduces New LHT20 Digital Hand-Held Thermocouple Thermometer

LOVE CONTROLS, a Division of Dwyer instruments, Inc., Michigan City, Indiana introduces their NEW LHT20 Digital Hand-Held Thermocouple Thermometer, designed for use with Type K or Type J thermocouples. This low cost unit incorporates a group of features in an easy to use format that makes it useful in a broad variety of applications.

Features include: two ANSI Standard mini-jack connectors allowing for a wide variety of probe styles, measurement in degrees F or degrees C, display resolution in whole degrees or tenth degree increments, display of T1 or T2 or the differential (T1-T2), auto power off to conserve battery, and a sturdy plastic case with easel support.

The LHT20 is the ideal thermocouple thermometer for use in laboratories, factories, shops, and any location where accurate temperature measurement is required.

LOVE CONTROLS produces a broad range of instruments and sensors for temperature and process monitoring and control. Instruments range from simple single board controls to complicated microprocessor based products with computer communication capabilities. The LOVE CONTROLS line of temperature sensors includes thermocouple and RTD assemblies and accessories.

LOVE CONTROLS' products are designed and manufactured to high quality and reliability standards and backed by solid warranties and years of practical experience.

For more information, contact Mr. Jim Nolan, Technical Sales Manager, LOVE CONTROLS DIVISION, DWYER INSTRUMENTS, INC., PO Box 373, 102 Hwy 212, Michigan City, IN 46361. Phone 219.879.8868, Fax 219.872.9057, Website: www.love-controls.com
More from Electrical Equipment & Systems