Thermoelectric Cooler suits gas sample conditioning.
Press Release Summary: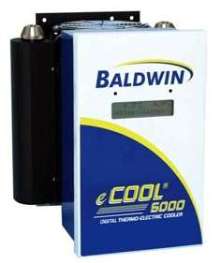 Digital eCOOL(TM) 5000 Series enables monitoring and control of gas sample handling systems remotely via Modbus, Internet, or LAN. It also facilitates control of other components of gas sample handling system, such as heated filter probe or sample line. Interface software allows users to adjust temperature set-points and operating ranges as well as pinpoint source of alarms. System also incorporates EZ-Clean(TM) twist-apart, stainless steel heat exchangers.
---
Original Press Release:

Baldwin, Inc. Introduces eCOOL(TM) 5000 Series Digital Thermo-Electric Coolers for Gas Sample Conditioning in Industrial Emissions Monitoring & Process Control Applications


Revolutionary Digital Coolers Enable Easy Remote Monitoring and Control of Gas Sample Handling System over Modbus, Internet, or Local Area Network

Reno, NV - September 29, 2004 - Baldwin, Inc. (Baldwin), manufacturer of gas sample handling solutions for industrial emissions monitoring and process control applications, today introduced its new eCOOL(TM) 5000 Series Digital Thermo-Electric Coolers. Industrial companies that monitor gas emissions for environmental regulation or process control will now be able to monitor and control their gas sample handling system remotely via Modbus, Internet, or Local Area Network. Electric utility, oil, chemical, and other industries will now have greater visibility and control of their gas monitoring systems.

"The introduction of our new eCOOL(TM) 5000 Series Digital Thermo-Electric Coolers marks a revolutionary advancement in gas sample handling," comments Kevin Ward, Director of Sales & Marketing at Baldwin. "Users will be able to monitor and control their gas sample conditioning systems and other components of their gas sample handling system, such as a heated filter probe or a heated sample line, over a Modbus network," Ward continued. "In addition, we offer an easy-to-use eCOOL(TM) interface software program to provide remote monitoring and control over the Internet or a Local Area Network," according to Ward. Users can adjust temperature set-points and operating ranges of their sample handling equipment using the software program. The eCOOL(TM) interface software program not only allows operators to pinpoint the source of an alarm but also provides them troubleshooting information.

The only company to offer a complete line of digital thermo-electric coolers, Baldwin continues to be a pioneer in gas sample handling technology. "We developed our eCOOL(TM) line of coolers to meet our customers' demand for easier network connectivity of their sample handling system," said Tom Baldwin, President. "Using digital electronics instead of analog also provides greater calibration accuracy and immunity to electrical interference," explained Baldwin.

The eCOOL(TM) 5000 Series provides alarm notification of heated filter probe and heated sample line over / under temperature, which eliminates the complexity of separate temperature controllers. The eCOOL(TM) 5000 also provides alarm notifications for cooler over-temperature, cooler thermocouple failure, and has a water slip relay alarm to shut off the sample pump to protect expensive gas analyzers. Extra analog and digital inputs and outputs are available for additional monitoring capability. The eCOOL(TM) 5000 Series can operate with different power supplies including 110VAC, 220VAC, 12VDC, 15VDC, and 24VDC, providing greater flexibility for various industry applications. The eCOOL(TM) 5000 Series also features Baldwin's new EZ-Clean(TM) twist-apart stainless steel heat exchangers with optional Durinert®+ coating for low NOx and acidic applications.

For additional information about the eCOOL(TM) 5000 Series Digital Thermo-Electric Coolers, please call 1-888-234-7366 or email info@baldwinUSA.com.

About Baldwin, Inc.

Baldwin, Inc., a privately held company headquartered in Reno, Nevada, provides gas sample handling solutions for industrial emissions monitoring and process control applications. Product lines include filter probes, gas converters, thermo-electric coolers, sample conditioning systems, and flow control drawers. Baldwin designs and manufactures products by working in partnership with OEMs, system integrators, environmental regulators, and suppliers, earning the company a reputation for offering superior product quality and exceptional service. For more information, please visit www.baldwinUSA.com or call 1-888-234-7366.

CONTACT INFORMATION:

Kevin Ward
Baldwin, Inc.
1-888-234-7366 (toll free US)
1-775-850-1800
www.baldwinUSA.com

More from Architectural & Civil Engineering Products