Thermoelectric Air Conditioners keep electronics cabinet cool.
Press Release Summary: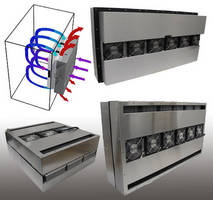 Available for systems with 3-phase power, thermoelectric electrical cabinet coolers offer cooling capacities from 2,200–6,000 BTU/hr and do not require filters, coolant, or chemicals. Only moving parts are industrial- and military-grade fans, and built-in temperature controller offers Eco-Mode for energy conservation. Able to perform in diverse environments, including NEMA-12/-4/-4X, these maintenance-free air conditioners also come in Heat/Cool versions and can be customized.
---
Original Press Release:

New 3-Phase Thermoelectric Air Conditioners



TECA Corporation (Chicago, IL) now offers thermoelectric enclosure coolers for systems with 3-phase power. TECA's new product line of 3-phase electronic enclosure coolers offers high cooling capacity ratings from 2,200 to 6,000 BTU/hr. Utilizing thermoelectric technology, TECA's 3-phase air conditioners are reliable, maintenance free and do not require filters, coolant or chemicals of any kind. The only moving parts are high quality industrial and military grade fans. TECA's 3-phase air conditioners for electrical cabinets excel in high ambient temperatures and can perform in a wide range of environments including NEMA-12, NEMA-4 and NEMA-4X.



Each 3-phase air conditioner has a built in temperature controller with TECA's exclusive "Eco-Mode", an energy efficient feature in which the air conditioner uses passive cooling. This passive cooling limits the requirement for active cooling and thus reduces operating costs.



As with all of TECA's high performance, high efficiency air conditioners, unique design features are a benefit. Each 3-phase thermoelectric air conditioner is built with a centrally-located power input cord and large bolting flange for easy, user-friendly installation. Robust hardware and environmental gasket are included. Heat/Cool versions are available. Customization is available.

Related