Thermoelectric Air Conditioner features universal input.
Press Release Summary: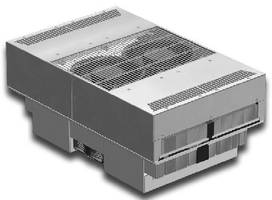 With 100–240 Vac universal input, Model AHP-2259 is rated at 1,330 BTU/hr. Through mounted, air-cooled unit features closed loop design, condensate control and evaporation system, integral temperature controller, and power saving air-to-air heat exchanger mode (ECO-Mode). Supplied in stainless steel housing suitable for NEMA-12 (IP 52) and NEMA-4/4X (IP 56) environments, unit has no compressor, is virtually maintenance-free, and operates in any orientation.
---
Original Press Release:
First Thermoelectric Air Conditioner with Universal Input
AHP-2259 Air Conditioner/Heat Exchanger
Air Cooled
100 - 240 VAC Input
Through Mounted
High Efficiency
Nema-12, 4, 4X
1330 BTU/HR

TECA 1-888-TECA-USA (832-2872) www.thermoelectric.com

CONFIGURATIONS
MODELPART NUMBERNOTESTEMPERATURE CONTROLENVIRONMENTAHP-22590-H4JB-0-000Cool only, industrial fansTC-4FNEMA-12, IP 52AHP-22590-H45B-0-000Cool only, industrial fansEXT*NEMA-12, IP 52AHP-2259HC0-H4IB-1-000Heat/Cool, industrial fansTC-7FNEMA-12, IP 52AHP-2259HC0-H45B-1-000Heat/Cool, industrial fansEXT*NEMA-12, IP 52AHP-2259XE0-H4JB-4-000Cool only, sealed hot side fansTC-4FNEMA-4, IP 56AHP-2259XE0-H45B-4-000Cool only, sealed hot side fansEXT*NEMA-4, IP 56AHP-2259XEHC0-H4IB-5-000Heat/Cool, sealed hot side fansTC-7FNEMA-4, IP 56AHP-2259XEHC0-H45B-5-000Heat/Cool, sealed hot side fansEXT*NEMA-4, IP 56AHP-2259X0-H4JB-2-000Cool only, Mil. grade hot side fansTC-4FNEMA-4X, IP 56AHP-2259X0-H45B-2-000Cool only, Mil. grade hot side fansEXT*NEMA-4X, IP 56AHP-2259XHC0-H4IB-3-000Heat/Cool, Mil. grade hot side fansTC-7FNEMA-4X, IP 56AHP-2259XHC0-H45B-3-000Heat/Cool, Mil. grade hot side fansEXT*NEMA-4X, IP 56

* Unit is set for 5-32 VDC external signal, relay(s) included

FEATURES
• High efficiency thermoelectric design
• Power saving air to air heat exchanger mode (ECO-Mode)
• Heavy duty full perimeter mounting
• Lower profile intrusion into enclosure
• Central input cord for easy mounting
• Closed loop design
• Condensate control and evaporation system
• Compact
• Increased efficiency at higher ambients by as much as 10%
• Virtually maintenance free
• No compressor
• Environmentaly friendly and safe
• Stainless Steel exterior housing
• Mounts and operates in any orientation
• Integral temperature controller
• Weight 55 LBS.

CONTROL TEMPERATURES
Active Cooling 35 °C
Heat Exchanger (ECO-Mode) 25 °C
Active Heating 10 °C
Typical Hysteresis 5 °C
Operating Ambient -40/+65 °C
Operating Enclosure -10/+60 °C

INCLUDES
• Power supply
• Temperature controller
• Power saving heat exchanger mode (ECO-Mode)
• Mounting gasket
• Mounting hardware
• Power input cord

Input Voltage 100 - 240 VAC
Current, Active 3.5 - 1.5 AMPS
Alternate Input voltage 127 - 374 VDC
Current , ECO-Mode 1 AMP
Frequency 47 - 63 / 440 Hz
Power Consumption 320 Watts

POWER INPUTS
Cooling (Traditional) 1330 BTU/HR
Cooling (Din 3168) 390 WATTS
Cooling COP (at L35 L35) 1.1
Heating (Traditional) > 980 BTU/HR
Heating (Din 3168) > 290 WATTS
Heating COP > 1.0
Heat Exchanger (ECO-Mode) 12.5 W/°C

PERFORMANCE RATINGS
200 - 277 VAC (254 - 420 VDC) Versions available

DIMENSIONS
Equation of line: y=(°C) x=Capacity (Watts)
Ambient Temp 35°C 50°C
Enclosure Air y=.062x-24.2 y=.062x-25.6
Cold Sink y=.046x-24.2 y=.046x-25.6

MOUNTING STYLE
Through Mounted

ENVIRONMENTS SERVED
NEMA-12 IP 52
NEMA-4,4X IP 56

RATING (TRADITIONAL)
1330 BTU/hr @ 0 °F T

RATING (DIN 3168)
390 Watts L35 L35
170 Watts L35 L50
Related