Thermocouple Interface IC fosters production of greener cars.
Press Release Summary: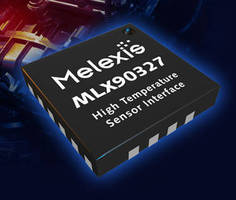 Addressing requirements for next generation powertrains, MLX90327 enables monitoring of operating temperatures from -40 to +155°C without any compromise to accuracy. Digital SENT interface is included for advanced powertrain electronic control units (ECUs), and PWM output is available for general-purpose automotive and non-automotive applications. This IC makes it possible to condition and monitor both Pt-sensors and thermocouples, with latter allowing measurements up to 1,300°C.
---
Original Press Release:

Low Cost Thermocouple Interface IC Plays Integral Role in Introduction of Greener Cars



Tessenderlo, Belgium – Increasing environmental concerns and ever more stringent legislation are driving the demand for more energy efficient vehicles. Increasing the operational effectiveness and decreasing the environmental impact of the powertrain necessitates higher working temperatures which must be strictly controlled and monitored at all times. Melexis now announces the MLX90327, a high performance sensor interface IC which enables accurate and reliable monitoring of high operating temperatures, thus addressing this key requirement for next generation powertrains. The device can cope with operating temperatures of from -40°C to 155°C without any compromise in accuracy being witnessed.



The MLX90327 comes with a digital SENT interface for advanced powertrain electronic control units (ECUs). In addition a PWM output is available for general-purpose automotive and non-automotive applications. With this device it is possible to condition and monitor both Pt-sensors and thermocouples. The latter allows to measure temperatures up to 1300°C. Several on-board-diagnostics features are included, allowing detection of sensor faults should they occur. In addition extensive protection against overvoltage and electro-static discharge (ESD) events ensure longevity.



The high temperature capabilities of MLX90327 will have direct environmental advantages, in terms of allowing more energy efficient turbo chargers and better cleaning treatments of exhaust gases. This is achieved through the higher operating temperatures supported in the exhaust gas recirculation (EGR) system, the diesel particle filter and the diesel oxidation catalyst. Applications are not necessarily restricted to the powertrain however, for example the braking systems of trucks will also benefit from reliable and accurate measurement of elevated temperature, as will high temperature industrial processes.



Contact Melexis



Marketing

Liesbet Stalmans

Melexis Inc

Transportstraat 1

3980 Tessenderlo

Belgium

Tel: +32 13 670 795

Fax: +32 13 672 134

lst@melexis.com



Sales

Diane Thill

Melexis Inc

27333 Meadowbrook Road,

Suite 200 Novi MI 48377

USA

Tel: 248-306-5400

Fax: 248-662-2041

dth@melexis.com



About Melexis

Melexis Microelectronic Integrated Systems N.V. (Euronext Brussels:MELE) imagines, creates and delivers innovative mixed signal integrated circuits. We engineer the sustainable future with ICs that bring more energy efficient systems to market. Melexis portfolio Senses, Drives and Communicates. Sensors include magnetic, MEMs, and sensor interface ICs; optoelectronic single point and linear array sensors; infrared thermometers, CMOS wide dynamic range, Time of Flight and night vision cameras. Driver ICs cover Advanced DC & BLDC motor controllers and FET Pre-driver ICs. Communication ICs serve RKE, TPMS, ISM band applications, NFC, RFID reader and smart tag solutions. Melexis is proud to partner with our customers to engineer the sustainable future.



For more information visit www.melexis.com



Issued by:

Mike Green

Pinnacle Marketing Communications Ltd

Tel: +44 208 4296 543

E-mail: m.green@pinnaclemarcom.com

Web: www.pinnacle-marketing.com

More from Machinery & Machining Tools