Thermally-Protected MOV meets UL 1449 specifications.
Press Release Summary: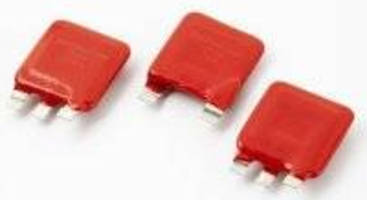 Designed to prevent fires occurring under prolonged overvoltage conditions, 2-leaded version of TMOV®34S Series consists of 34 mm square-format varistor element with integrated thermally active element. Latter opens and safely disconnects device in case of overheating. Able to be wave soldered, device offers steady-state AC voltage ratings from 115-750 V. Single pulse energy ratings for 8/20 µs current wave are up to 40 kA, and ratings for 2 ms current wave range from 235-1,050 J.
---
Original Press Release:

Littelfuse Releases New Thermally-Protected MOV (TMOV®)



Device meets UL 1449, helps to prevent fires occurring under prolonged overvoltage conditions

DES PLAINES, Illinois, January 8, 2009 - Littelfuse, Inc. (NASDAQ/NGS:LFUS) today introduced the two-leaded version of the TMOV34S Series, an addition to the market leading TMOV® Series which is a thermally protected varistor that represents a new development in circuit protection. It consists of a 34mm square-format varistor element (MOV) with an integrated thermally active element. The thermal element is designed to open and safely disconnect the device in the event of overheating due to certain conditions.

This patented design is superior to the use of the discrete thermal cutout (TCO) and MOV combination because it offers a faster disconnection time, more reliable operation, reduces part count and can be wave soldered.

Unlike varistors that do not have thermal protection, the TMOV34S Series varistor is designed specifically to help customers meet the abnormal overvoltage conditions specified in Section 37 of UL 1449. This new device will enable compliance with the 3rd edition of UL 1449 when it comes into force.

Designers can use this technology to improve product safety and reliability, and to make their own designs compliant with UL 1449. Suggested applications include TVSS products, AC power protection modules, AC power meters, uninterruptible power supplies and power supplies for cell phone base stations.

The TMOV34S is also already available in the three-lead version; the third lead is an indicator option that may be used to signal that the device has disconnected itself from the circuit.

Steady-state AC voltage ratings range from 115 to 750V. Single pulse energy ratings for the 8/20µs current wave per UL 1449 are up to 40kA, and single pulse energy ratings for a 2ms current wave range from 235 to 1050J. Operating ambient temperature is -55 to +85°C.

Availability.
The TMOV34S Series of TMOVs are available in quantities of 180 pieces now. Pricing and samples are available by contacting a Littelfuse sales representative.

Additional Information.
For additional information or to request samples, please visit the Littelfuse Web site at www.littelfuse.com or call the Littelfuse Technical Support line at 1-800-999-9445.

Click here for TMOV34S series product specifications

For circuit protection application design ideas, please visit the new Application Design Center section of the Littelfuse web site.

If you have questions or require technical support please contact the Littelfuse technical support hotline at 1-800-999-9445.

About Littelfuse
As the worldwide leader in circuit protection products and solutions with annual sales of $536.1 million in 2007, the Littelfuse portfolio is backed by industry leading technical support, design and manufacturing expertise. Littelfuse products are vital components in virtually every product that uses electrical energy, including automobiles, computers, consumer electronics, handheld devices, industrial equipment, and telecom/datacom circuits. Littelfuse offers Teccor®, Wickmann® and Pudenz® brand circuit protection products. In addition to its Des Plaines, Illinois, world headquarters, Littelfuse has sales, distribution, manufacturing and engineering facilities in Brazil, China, England, Germany, Hong Kong, India, Ireland, Japan, Korea, Mexico, the Netherlands, the Philippines, Singapore, Taiwan and the U.S.

For more information, please visit Littelfuse's web site at www.littelfuse.com.

More from Transportation Industry Products