Thermally Conductive Epoxy is also electrically insulative.
Press Release Summary: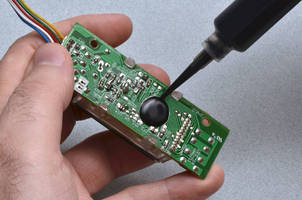 Used for such applications as bonding, sealing, glob top, and die attach, Supreme 3HTND-2GT is thermally stable, with service range of -100 to +400°F; dimensionally stable; and capable of withstanding thermal cycling and shocks. Single-component system does not require mixing and bonds to various substrates used in electronics, including metals, composites, ceramics, and plastics. Able to be readily applied to defined area, system cures in 20–30 min at 250°F or in 5–10 min at 300°F.
---
Original Press Release:

Thermally Conductive, Electrically Insulative One Part Epoxy for Bonding, Sealing and Glob Top Applications



Featuring the combination of electrical insulation properties and thermal conductivity, Master Bond Supreme 3HTND-2GT can be used for a variety of applications including bonding, sealing, glob top and die attach. This toughened epoxy system bonds well to a wide variety of substrates used in electronics, including metals, composites, ceramics and many plastics.



As a one component system, Supreme 3HTND-2GT does not require mixing and features a thicker viscosity with limited flow characteristics. Unlike many epoxies it can be readily and efficiently applied to a defined area. It cures quickly in 20-30 minutes at 250°F or in 5-10 minutes at 300°F with very low shrinkage. Supreme 3HTND-2GT can cure in thicknesses of up to 1/8 inch if needed.



Additionally, this dimensionally stable system is capable of withstanding rigorous thermal cycling and shocks. Thermally stable, the service temperature range for this system is first rate at -100°F to +400°F. It resists chemicals rather well, including water, acids, bases and many solvents. Particularly noteworthy is its low level of ionic impurities.



Supreme 3HTND-2GT is yellowish tan in color and is available in a variety of packaging including syringes, cartridges, pints, quarts and gallon containers.



Master Bond Toughened Epoxy Compounds



Master Bond Supreme 3HTND-2GT is a multifunctional system for glob top, die attach, bonding and sealing applications featuring thermal conductivity, high temperature resistance and toughness. Read more at http://www.masterbond.com/properties/flexibilized-and-toughened-adhesive-systems or contact Tech Support. Phone: +1-201-343-8983 Fax: +1-201-343-2132 Email: technical@masterbond.com.



Note:

For a full product description, please visit: http://www.masterbond.com/tds/supreme-3htnd-2gt

Check out more videos on our YouTube channel: http://www.youtube.com/user/MasterBondVideo



CONTACT

James Brenner, Marketing Manager

Email: jbrenner@masterbond.com

Tel: +1-201-343-8983

Fax: +1-201-343-2132



MASTER BOND INC.

154 Hobart Street

Hackensack, NJ 07601-3922

Web: www.masterbond.com

More from Adhesives & Sealants