Thermally Bonded Tubing eliminates tubing bundles.
Press Release Summary: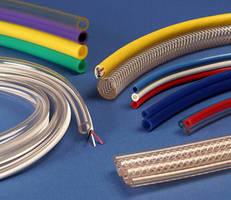 Hot Bond® joins lengths of reinforced and unreinforced tubing of similar material using heat, resulting in orderly arrangement. This ribbon of tubing can be used in new and existing equipment in various industries. In addition to eliminating multiple routing of lines, product facilitates line traceability, conserves space, and promotes professional appearance. Four types include Permanent, Strippable, Skip (alternating), and Electric (electro-pneumatic connections).
---
Original Press Release:

Hot Bond® from NewAge® Industries Eliminates Cumbersome Bundles of Tubing



Helps Companies Save Money & Time on Installation

Southampton, PA - Now available from plastic tubing manufacturer NewAge Industries is Hot Bond thermally bonded tubing. The Hot Bond process joins lengths of reinforced and unreinforced tubing of similar material using heat, not leachable adhesives or solvents, for an orderly arrangement. This ribbon of tubing is used in both new and existing equipment in industries such as appliance, food service, pool and spa, paint application, robotics, processing, maintenance, medical, automotive, and others.

Hot Bond benefits include:


Saving time and money on installation - bonded tubing eliminates multiple routing of lines

Easier line traceability - quick troubleshooting saves labor expenses and time

A professional appearance - a neat ribbon of tubing shows attention to detail and design while it eliminates confusing tangles of tubing

Saving space - Hot Bond offers a more exact dimension than a bundle of tubing

Four types of Hot Bond allow for flexibility in design. Permanent bond offers maximum durability; permanently-bonded tubing cannot be separated without being cut. Strippable bond lets the user peel back a section of bonded tubing without the use of tools for convenient fitting attachments. Skip bond alternates sections of bonded tubing with unbonded tubing at specified intervals. Electric Hot Bond helps simplify electropneumatic connections by bonding electrical wire or light duty cable (customer supplied) to similar tubing materials-PVC-coated wire to PVC tubing for example-resulting in more manageable installation and servicing processes.

Reinforced and unreinforced tubing of the same plastic material can be bonded together even when varying sizes are involved (some limitations exist). Two or more tubes up to a finished width of 2-1/8" can be thermally bonded, and prototyping is easy. Post-bonding fabrication, such as coiling and assembly, is also available.

For more information on NewAge Industries' Hot Bond, contact the Fluid Transfer Specialists® at NewAge Industries, Inc., 145 James Way, Southampton, PA 18966; phone 800-50-NEWAGE (800-506-3924) or 215-526-2300; fax 800-837-1856 or 215-526-2190; e-mail: [email protected]: or visit www.newageindustries.com/hotbond.asp

About NewAge Industries and AdvantaPure®
In business since 1954, NewAge Industries manufactures and fabricates thermoplastic and thermoset tubing in both reinforced and unreinforced styles. The company offers one of the broadest product lines of tubing and fittings in the U.S., provides extensive custom extrusion and fabrication capabilities, and services customers worldwide. NewAge Industries maintains a large inventory and prides itself on same-day shipment of 98% of orders for its core product lines. In 2006, NewAge initiated an ESOP (Employee Stock Ownership Plan) for the benefit of both its employees and customers.

The AdvantaPure division of NewAge Industries is ISO 9001:2008 certified and specializes in high purity tubing, hose, single use systems, manifolds, and other molded components for the pharmaceutical, biomedical, food, beverage, and chemical industries. All products are manufactured, stored, and shipped using the cleanest methods possible to ensure unsurpassed product purity. RFID systems, including gamma-irradiatable styles, are offered as well.

Hot Bond®, NewAge®, AdvantaPure®, and "Fluid Transfer Specialists®" are registered trademarks of NewAge® Industries, Inc.