Thermal Tweezer Nozzles minimize thermal stress on PCBs.
Press Release Summary: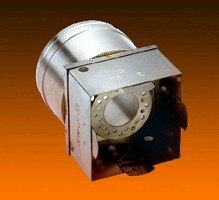 Using Thermal Tweezers Nozzles, engineers can remove devices such as multiple vertically stacked ICs without damaging IC packages and without exposing PCB to excessive reflow cycles. Units allow heat to be confined to localized area of stacked solder joints, preventing total PCB from reaching reflow temperatures. Operating at 200°C, nozzles are also suited for use with glob-top encapsulated die, small components, and fine pitch plastic connectors.
---
Original Press Release:

OK International to Introduce Thermal Tweezer Nozzles at APEX 2007



Next-generation tools enable fast and reliable rework of stacked CSPs, encapsulated die, and fine-pitch plastic connectors

OK International will introduce a precision rework solution for advanced packages and assemblies at APEX 2007. Thermal Tweezers Nozzles will reduce thermal stresses placed on PCBs during multiple rework operations for POP Package on package stacked device components, and will deliver significantly better performance than traditional hot air tools and vacuum cups that are not suited for use with multiple stacked components, glob-top encapsulated die, or small devices that are easily damaged by excessive temperature.

Using Thermal Tweezers Nozzles, engineers will be able to successfully remove devices such as multiple vertically-stacked ICs without damaging the IC packages and without exposing the PCB to excessive reflow cycles over and above the IPC-recommended maximum of five cycles. This maximum can easily be exceeded after initial assembly, subsequent removal of two or even three vertically-stacked components using conventional rework tools, and final reassembly. Thermal Tweezers Nozzles allow heat to be confined to the localized area of the stacked solder joints, thereby preventing the total PCB from reaching reflow temperatures.

The new Thermal Tweezers Nozzles will also deliver an effective alternative to a vacuum cup when removing packages such as glob top encapsulated ICs, or certain types of BGAs that display high surface tension when the solder balls are melted during rework.

Small components and connectors, particularly those with plastic bodies, can also be removed easily using the new Thermal Tweezers Nozzles. Conventional rework equipment, such as hot air tools, can easily damage the component body through excessive and uncontrolled application of heat. Surrounding components are also frequently blown off the board. PCB pad's are often damaged due to manual removal with hand held tweezers. In contrast, Thermal Tweezers Nozzles will deliver precisely-controlled heat to desolder and remove the component in a single, efficient process.

The OK International Thermal Tweezers Nozzles operate at approximately 200°C and combine heating action with the ability to physically remove the component from the board. The tweezer blades are attached to the reflow nozzle at manufacture and mechanically bend in during hot air heating at approximately 200ºc, to grip the component to be removed. Once solder is reflowing the component can be lifted up by the tweezer nozzle. Thermal Tweezers Nozzles are designed for use in combination with the heating nozzle of a rework station such as the OKi APR-5000 Array Package Rework System.

OK International's Thermal Tweezers Nozzles can be seen at the OK International booth, 2201, at APEX 2007 from February 20 through 22, at the Los Angeles Convention Center, Los Angeles, California.

About OK International
OK International is a leading global supplier of products for production assembly equipment. The product range includes bench top soldering and desoldering tools, array package rework equipment, fluid dispensing systems and accessories, and fume extraction systems.

OK International is committed to understanding the product needs of its customers and supplies professional grade products that are innovative, reliable, price competitive and easy to use. Through a global sales channel, OK International provides expert product support and responsive customer service, with localization to meet regional market needs.

OK International Contact
Sherilyn Hill
OK International
12151 Monarch Street
Garden Grove CA 92841 USA
www.okinternational.com
kwww.proteanmarketing.com

More from Test & Measurement