Thermal Transfer Coders suit flexible packaging materials.
Press Release Summary: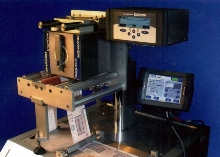 SmartDate® 5 line includes SmartDate 5 and 5s models that can be used with VFFS and HFFS machines, flow wrappers, label applicators, and cartoning machines. Coders are software compatible with all other MARKEM coders and have embedded PackML software for OMAC compliance. SmartDate 5 offers reconfiguration from intermittent or continuous mode in less than 5 min and digital ribbon management. Model 5s features shuttle technology to achieve print speeds up to 1,800 mm/sec.
---
Original Press Release:

Markem Corporation Launches The SmartDate® 5 Series of Thermal Transfer Coders


Devices Provide Customers with Maximum Uptime, Flexibility and a Value-Added Ownership Experience

Keene, N.H. (June 13, 2005) - MARKEM Corporation, a trusted world leader in product identification solutions, has introduced its SmartDate® 5 line of thermal transfer coders, which includes two models, the SmartDate 5 and 5s. The SmartDate 5 series of thermal transfer coders offers maximum uptime, excellent flexibility and high reliability, as well as a value-added ownership experience with MARKEM's Uptime Total Solutions program.

SmartDate thermal transfer coders are ideal for flexible packaging materials and applications within the snack food, confectionary, pharmaceutical, cosmetics, baked foods and frozen foods industries. They are widely used with VFFS machines, HFFS machines, flow wrappers, label applicators and cartoning machines. These coders are the preferred thermal transfer coders by original equipment manufacturers (OEMs) around the world.

Flexibility is an important feature of the SmartDate 5, which includes the ability to quickly and easily perform re-configuration from intermittent or continuous mode in under five minutes and changing the handing of the machine in under an hour without replacing parts. The SmartDate 5s coder features advanced patented "shuttle" technology to achieve high print speeds at up to 1800 mm/second, making it the world's fastest, highest performance printer, which can also be used on bagging machines with rapidly changing speeds.

MARKEM's Digital Ribbon Management (DRM) feature on the SmartDate 5 thermal transfer coder offers direct drive of the ribbon using advanced motor technology and also incorporates MARKEM's Digital Ribbon Advance (DRA) and Digital Ribbon Save features (DRS). Digital Ribbon Advance minimizes ribbon waste with a control mechanism to reduce ribbon consumption. Digital Ribbon Save describes some of the unique patented MARKEM techniques that can result in ribbon savings of up to 66%. A range of 2D and RSS bar coding standards are supported through the SmartDate 5 thermal transfer coders, as well as compliance with the pharmaceutical industry's 21 CFR Part 11.

Other characteristics which enhance flexibility include: software compatibility with all other MARKEM coders; embedded PackML software for OMAC compliance; and the insurance of future functionality with inputs, outputs and communications capabilities. SmartDate 5 thermal transfer coders can be upgraded to a 5s if performance requirements change. Code management is also a key benefit of the SmartDate 5 series with a graphic user interface control box containing a four-line graphic display that allows codes to be easily set up online.

Maximum uptime is delivered with SmartDate 5 thermal transfer coders because they were developed under the industry's only total Reliability Engineering Program, which continually monitors in-field equipment to ensure optimum performance. In addition to this, MARKEM has eliminated mechanical wear parts from SmartDate 5 coders, reducing the need for maintenance. Robust, quick-release components and attached cassettes keep maintenance simple. High-speed fault recovery can prevent as much as 50 percent on downtime.

While the primary application of SmartDate 5 coders are printing date codes, these coders allow for faster applications where the printed data changes on each package, such as price and weight applications or address labeling applications. The SmartDate 5 family of thermal transfer coders process data much more quickly, leading to fast interaction with on-line devices and external databases for faster imaging, and include an expanded database memory, portable data transport, and added flexibility for the integration of other systems. Capabilities of the series also include easy operator faultfinding capabilities, remote diagnostics, production data logging features and flexible operation.

The SmartTouch(TM) graphical user interface is compatible with the SmartDate 5 thermal transfer coders. This device is designed to be a simple operator interface and benefits from large "what you see is what you get" image previews and screen layouts allowing an operator and engineers to access all their common functions. In addition to this, SmartTouch can also be used as a portable control system with the ability to design images, produce speed profiles and control up to four systems from a single interface.

Greater reliability and consistently uniform, crisp and clear print quality are delivered from the SmartDate Series coders' digital-to-print thermal transfer technology. The SmartDate 5 supports non-Roman character sets, allowing coding in Arabic, Greek, Cyrilli and Kanji.

MARKEM Corporation is a trusted world leader in innovative and reliable product identification solutions for the world's leading companies. Solutions include equipment, software, supplies and services for industries including food and beverage, cosmetics, pharmaceutical, and electronics. MARKEM is also on the leading edge of RFID implementation. The company operates from Headquarters in Keene, New Hampshire, and has additional development and manufacturing facilities in San Diego, California, Nottingham, England and Schoten, Belgium with subsidiary companies, distributors and representatives in over 50 countries.

More from Services