Thermal Surface Absorbing Head offers low power measurements.
Press Release Summary: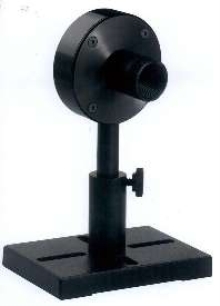 Featuring flat spectral response from 0.19-2.5 µm, Model 3A-FS can supply CW and pulsed measurements of 40 µW to 3 W and 7 µJ to 2 J. Unit is suited for applications that require very low power and/or energy measurements on lasers down to tens of microwatts. Additional features include power density of 200 W/cm², power noise level of 2 µW, response time of 1.5 sec, and power accuracy of ±3%.
---
Original Press Release:

Thermal Surface Absorbing Head for Very Low Power and Energy Lasers


Wilmington MA, February 2005.... Ophir Optronics, Inc. leaders in advanced technology for the measurement of laser power, energy, beam profile and wavelength, introduces the new, 3A-FS Thermal Surface Absorbing Head.

The Ophir 3A-FS has been designed to be very sensitive with a low noise threshold and a fast response rate. The 3A-FS is ideal for applications that require very low power and/or energy measurements on lasers down to tens of microwatts. It has a flat spectral response from 0.19um to 2.5um.

As with all of Ophir's Thermal Heads, the 3A-FS has one of the highest damage thresholds in the industry and can supply CW and Pulsed measurements of 40µW to 3W and 7µJ to 2J.

Additional features of the 3A-FS Thermal Surface Absorbing Head include: Power Density of 200W/cm2; Power Noise Level of 2µW; a response time of 1.5 seconds and Power Accuracy of ±3%. The Mode; 3A-FS operates with all the Laserstar Series displays, Laserstar, Nova, Nova II, Orion, and AN/2.

More information on the 3A-FS and Ophir's complete line of Thermal, Pyroelectric and Photodiode Heads can be found in their new, 2005 catalog or by visiting their website at www.ophiropt.com

About Ophir Optronics
For more than 25 years, Ophir Optronics, Inc. has set the standard for the measurement of laser power and energy. Ophir, an ISO 9002 company, employs over 120 engineers, technicians and skilled workers. The company manufactures optical instrumentation, optical components and non-contact optical equipment for distance measurement and three-dimensional mapping of objects. The company's products are sold worldwide in over 25 countries. Ophir maintains marketing, sales and service centers in the USA, Japan, Israel and Germany.

Contacts: Laurie Beausoleil (Ophir Optronics, Inc.)
Tel: 800-383-0814
Fax: 978-774-8202
E-Mail: sales@ophiropt.com

More from Thermal & Heating Equipment