Thermal Receipt Printer is suited for mobile applications.
Press Release Summary: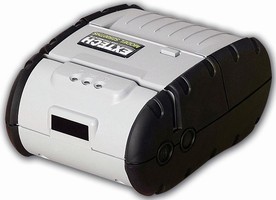 Operating from rechargeable lithium ion battery or ac power adapter, portable S2500THS features automatic thermal print contrast and is in-field programmable for firmware, font, and logo setup. Microprocessor with integrated CPU manages all features supported by printer and has built-in Flash and SRAM memory. Along with IrDA communication system, MS-DOS and Windows compliant unit offers multiple communication interfaces and optional integrated Bluetooth(TM) radio.
---
Original Press Release:

Extech Data Systems Offers S2500THS Series Thermal Printer



Ultra Lightweight Portable Receipt Printer has Wireless Connectivity for Personal Area Networks

Waltham, MA - Extech Data Systems, a leading developer of portable printers for enterprise-wide applications, offers its new S2500THS Series thermal printer for receipt printing. With a uniquely designed IrDA communication system, the S2500THS is extremely lightweight and portable while maintaining the strength and durability needed for portable and mobile applications.

With automatic thermal print contrast, the S2500THS produces a high speed, high resolution print, significantly reducing print time per receipt. A clamshell-style loading system and push-button release for the paper door make changing paper rolls easy and convenient. Built-in detectors monitor temperature, voltage, and paper-out.

A new extra-capacity rechargeable lithium ion battery enables more receipt prints per charge. The printer also boasts a fast charge circuit, with an auto switch to AC power when the power adapter is used. Hardware and software power management come standard with the S2500THS.

The S2500THS is MS-DOS and Windows compliant, and contains a highly integrated, state-of-the-art microprocessor complete with a flash-based integrated CPU that manages all features supported by the printer and contains built-in Flash and SRAM memory. Resident and downloadable features allow one to add logos, bar codes and other graphic elements to the receipt. Multiple communication interfaces and optional integrated Bluetooth(TM) radio are available.

The printer is in-field programmable for firmware, font and logo setup. Print drivers are available for Windows 95, 98, 2000, and XP, and print utilities are offered for all CE and Palm based operating systems. Special features include resident fonts enabling 12 to 24 characters per inch, protective over-molds, and an optional built-in 3-track MCR.

The S2500THS is IEC 68 certified for environmental suitability in mobile computing applications and comes with a 12 month warranty on all parts including print head.

About Extech Data Systems

Extech Data Systems, a division of Extech Instruments, is one of the world's leading developers of portable printers for enterprise-wide applications centered around mobile information and remote transactions. The company designs, develops and markets portable printer products, and sells its products worldwide through a global network of distributors and marketing partners. Extech printers are high speed, innovative, rugged, reliable, and easy to use. With over 17 years experience developing portable printers, Extech Data Systems has the industry knowledge, design expertise, and technological skills needed to meet customer mobile printing needs.

For further information about Extech Data Systems and its products, call 781-890-7440 or visit www.extech.com.

Please send all sales leads to Tony Revis, General Manager, Extech Data Systems
285 Bear Hill Rd., Waltham, MA 02451 USA; Phone: 781-890-7440; Fax: 781-890-7864 Email: tony.revis@extech.com

More from Packaging Products & Equipment