Thermal Product Solutions Ships Tenney Vacuum Drying Ovens to a Medical Device Manufacturer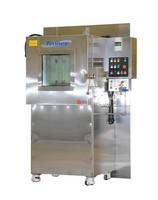 New Columbia, PA – May 16, 2017: Thermal Product Solutions, a global manufacturer of thermal-processing equipment, announced the shipment of five (5) Tenney Vacuum Drying Ovens to a medical device manufacturer. The chambers will be used for vacuum drying of suture material.
These vacuum ovens have temperature ratings of +15° C above ambient to +60° C and work chamber dimensions of 24.125" W x 24.5" D x 24.125" H. The pressure range is sire level to 200,000 feet (0.169 mm Hg).
The chambers utilize temperature limited heating cables that are evenly spaced on the exterior of the pressure vessel. These cables are covered with thermal mastic for optimal heat transfer. The heating of these vacuum drying ovens will be controlled via the main controller. There is no cooling on this system.
"At TPS, we apply our expertise, experience and resources to create the best products for our customers. These vacuum ovens utilize a combination of fiberglass and polyurethane insulation surrounds the chambers to maximize the insulating characteristics and maximize temperature uniformity." - John Eldred
Unique features of these Tenney vacuum ovens include:
All main power circuits shall have overcurrent protection
Busch DP0080A dry screw style pump
Nitrogen back fill connection with a control solenoid valve
Stainless Steel removable shelves
Allen Bradley remote Flex I/O electrical control system
About Tenney
Tenney and Lunaire boast one of the most comprehensive lines of standard and custom environmental-testing chambers and rooms in the industry. Known for its innovative engineering and design, robust construction, and superior performance, the Tenney and Lunaire line of test chambers is designed to meet all of your temperature, humidity, altitude, vibration, and vacuum-testing requirements. Tenney and Lunaire environmental chambers, rooms, and ovens are backed by TPS's design assistance and global support and are available in a variety of configurations and footprints.
About TPS
Thermal Product Solutions ("TPS"), is a leading American manufacturer of industrial ovens, furnaces, pharmaceutical sterilizers, laboratory ovens, environmental temperature chambers, and stability test chambers. TPS provides thermal processing and test solutions for a range of industries. TPS brands include Baker Furnace, Blue M, Gruenberg, Tenney, Lindberg, Lunaire, MPH, and Wisconsin Oven. For more information on equipment solutions from TPS visit the website at www.thermalproductsolutions.com
2821 OLD ROUTE 15
NEW COLUMBIA, PA 17856 USA
T. 570.538.7200
F. 570.538.7391
More from Health, Medical, & Dental Supplies and Equipment