Thermal Product Solutions Ships Blue M Oven for a Prominent Medical Device Manufacturer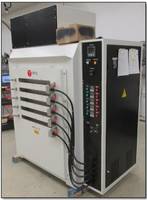 December 7, 2016 - Thermal Product Solutions (TPS), a global manufacturer of thermal-processing equipment, announced the shipment of a Blue M industrial oven to a prominent medical device manufacturer. The batch oven is used to cure medical devices, such as catheters.
This Blue M oven has a maximum temperature rating of 650⁰ F and a work chamber of 36" W x 36" D x 48" H. The curing oven was designed to allow the customer to place trays of product into the oven without opening the door and disrupting other products. The bolt-on-door with independently timed tray slots allows the customer to slide a tray of product into the oven, where it is fully supported. The tray slots allow for continuous production. Each tray is separately timed, thus allowing for a more accurate process than a conventional cabinet oven.
"At TPS we look for innovative solutions to our customer's needs. In this case, we wanted to provide a loading solution that allowed the customer to continually process trays in a batch style oven. The individually monitored tray slot design provided our customer with an efficient solution and resulted in a more accurate process than a typical cabinet style oven." Paul Brown, Applications Engineer
Unique features of this Blue M oven include:
Yokogawa UP55A Programmable Temperature Controller
Bolt on door with five tray slots allows for loading of individual trays
Each tray is individually monitored with a proximity sensor and timer
NIST Certificate at 400°F
Up to 27 kw of heat installed
About Blue M
Blue M, a division of Thermal Product Solutions, LLC, is recognized as an industry leader in the design, engineering, manufacture, and after-market support of industrial and laboratory ovens that are ideal for a wide range of applications. Blue M products are available in bench top, stacked, and cabinet models to accommodate a variety of capabilities and footprints.
About TPS
Thermal Product Solutions ("TPS"), is a leading American manufacturer of industrial ovens, furnaces, pharmaceutical sterilizers, and environmental temperature cycling and stability test chambers. TPS is a global leader in thermal processing products and test solutions with brands including Baker Furnace, Blue M, Gruenberg, Tenney, Lindberg, Lunaire, MPH, and Wisconsin Oven. For more information on equipment solutions from TPS visit the website at www.thermalproductsolutions.com.
Thermal Product Solutions
2821 Old Route 15
New Columbia, PA 17856 USA
T. 570.538.7200
F. 570.538.7391
More from Health, Medical, & Dental Supplies and Equipment