Thermal Product Solutions Ships a Custom Gruenberg Oven to a Glassware Manufacturer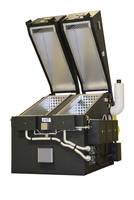 February 25, 2017-- Thermal Product Solutions (TPS), a global manufacturer of thermal-processing equipment, announced the shipment of a custom Gruenberg oven to a glassware manufacturing company. This custom oven will be used for heating glass products during an R&D process.
This Gruenberg oven has a maximum temperature rating of 800°F and features two (2) work chambers of 30"W x 60"D x 40"H. This top-loading oven has custom designed with automatic lids that will allow the customer's robotic arm to load and unload products at the specific temperature. This feature eliminates the need for an operator to load and unload the oven during the R&D process. The customer also required guaranteed temperature uniformity of +/- 5°C at 400°C for their application.
"This customer wanted to fully automate their R&D process along with run two batches of product at the same time. This custom designed top load oven with automated lids met their unique requirements." – Dave Schmidt, Sales Representative
Unique features of this Gruenberg top load oven include:
Dual work chambers
Dual automated lids
Guaranteed temperature uniformity of +/- 5°C at 400°C
Built-in product stand
TPS has extensive experience with the design and manufacture of complex systems including product automation. This gives them the ability to work with customers on the most complicated systems and meet stringent design requirements. TPS designs and manufactures industrial and laboratory ovens and furnaces, and environmental temperature cycling and stability test chambers. Product brands include Blue M, Gruenberg, Lindberg/MPH, Tenney, Wisconsin Oven, and Baker Furnace. TPS headquarters are located in New Columbia, Pennsylvania. Baker Furnace is located in Yorba Linda, California, Lindberg/MPH is located in Riverside, Michigan, and Wisconsin Oven is located in East Troy, Wisconsin. For more information, visit www.thermalproductsolutions.com.
2821 Old Route 15
New Columbia, PA 17856 USA
T. 570.538.7200
F. 570.538.7391