Thermal Management Systems cool sensitive electronic hardware.
Press Release Summary: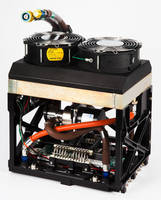 Custom and self-contained Intelligent Thermal Management Systems (iTMS™) are based on Ruggedized Liquid Cooling System (rLCS™), which pumps coolant through cold plate(s) to which heat generating components are mounted. Heat is transferred into fluid before flowing through heat exchanger, where thermal load is rejected, and integrated controls and sensors, data logging, and plug-and-play intelligent life support systems offer precise thermal control of electronic hardware.
---
Original Press Release:

Thermacore Expands Scope of Liquid Cooling Solutions with Intelligent Thermal Management Systems



Lancaster, PA – Thermacore, Inc. (www.thermacore.com), a leading provider of advanced thermal management and material solutions, announces the availability of a new generation of custom, self-contained Intelligent Thermal Management Systems (iTMS™) for cooling sensitive electronic hardware.



The iTMS is based on the liquid cooling system technology developed by Thermacore for challenging military applications, such as embedded military computing, radar and image processing applications, laser diodes and power converters. The iTMS extends the capabilities of Thermacore's Ruggedized Liquid Cooling System (rLCS™) technology, which is a closed loop liquid cooling system that includes a liquid-to-air heat exchanger(s), cold plate(s), pump(s), coolant, fluid reservoir, fans(s) and hydraulic interconnects. The rLCS pumps coolant through the cold plate(s) to which the heat generating components are mounted. Heat is efficiently transferred into the fluid before flowing through the heat exchanger, where the thermal load is rejected.



The rLCS technology was developed to provide high-performance liquid cooling for harsh environment military and aerospace electronics applications, and is the foundation for iTMS, which adds sophisticated control features to the existing rLCS platform. These additional features include integrated controls and sensors, data logging and plug-and-play intelligent "life support" systems offering precise thermal control of electronic hardware. The systems are custom-engineered for each application to optimize size, weight, power consumption and cooling (SWaP-C). COTS or MIL-COTS components are used where practical in order to decrease cost and lead time. Thermacore's engineering design, development, validation/qualification testing and manufacturing capabilities ensure performance and reliability under the most demanding conditions.



"Thermacore's Intelligent Thermal Management Systems represent a new way to apply our proven thermal management technology, such as liquid-to-air heat exchangers, cold plates, pumps and fans," said Gregg Baldassarre, Thermacore vice president, sales and marketing. "We've added the sensors, electronics and logic controllers needed to make iTMS a true plug-and-play solution that is easy to incorporate within electronics designs."



By precisely controlling electronics temperature at optimum levels, the Thermacore iTMS can extend the life and improve the reliability of electronic hardware. The device's energy consumption is reduced, because the iTMS only adjusts pump speed, fan speed and other operating components, when signaled by integrated programmable logic control (PLC) technology. Live switching between redundant pumps provides rapid, automatic recovery if a single pump malfunction occurs, further increasing reliability.



Integration within complex electronics platforms is made easier because the iTMS integrated control system allows for reduction or elimination of electronics in the next level of overall assembly, and because vital system information can be communicated using readily available, industry-standard interfaces. Key applications for the iTMS will include thermal solutions for the military, including radar and unmanned vehicles, oil and gas processing, medical diagnostic equipment, scientific testing and academic research. The iTMS is designed to respond to the challenges of computer cooling in a variety of harsh, rugged environments, from military radar operations to transportation power electronics.



Both the iTMS and rLCS augment Thermacore's broad line of liquid cooled cold plates (tube-in-plate



micro-channel, aluminum vacuum brazed, and friction stir welded) and liquid-to-air heat exchangers (torch brazed and Controlled Atmospheric Brazed or CAB).



To download technical data sheets on iTMS, rLCS, Liquid Cooled Cold Plates or Pumped Liquid Cooling Systems, please visit Thermacore's online Design Center at www.thermacore.com/design, or visit the company's website at www.thermacore.com.



For an overview of Thermacore's entire business capabilities, download a copy of Thermacore's Business Capabilities brochure at http://www.thermacore.com/documents/Thermacore_Business_Capabilities_Brochure.pdf.



To learn more about Thermacore, visit www.thermacore.com.



About Thermacore

Founded in 1970, Thermacore specializes in the custom design, development, and manufacturing of highly engineered thermal management and material solutions for a variety of OEM applications across a diversified set of global markets that includes Military/Aerospace, Computer, Communication, Energy Conversion, Medical, Transportation, Test Equipment, and Automotive. With over 40 years of experience in the design, development, and manufacturing of advanced solid conduction assemblies (k-Core® APG system and thermal straps), passive and active two-phase assemblies and systems (heat pipes, vapor chambers, loop heat pipes), liquid cold plates and active pumped liquid cooling systems, cabinet heat exchangers, and custom materials development, Thermacore brings unparalleled engineering design expertise, manufacturing experience, and thermal and material solution performance, quality, and reliability to these markets. Thermacore employs more than 180 employees at 5 facilities located in the United States (Lancaster, Pennsylvania; Langhorne, Pennsylvania, Rostraver, Pennsylvania, and Ronkonkoma Long Island, New York) and the United Kingdom (Ashington, Northumberland). Thermacore facilities are certified to AS 9100 Rev C., ISO 9001:2008 and ISO 14001:2004 quality standards. For information about Thermacore, visit www.thermacore.com.



Media Contact:

Gregg J. Baldassarre

Vice President, Sales and Marketing

E-mail: info@thermacore.com

More from Electronic Components & Devices