Thermal Interface Material offers EMI absorption.
Press Release Summary: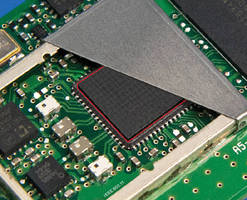 With thermal conductivity of 1.0 W/m-K and EMI absorption for frequencies above 1 GHz, GAP PAD EMI 1.0 offers electronic specialists critical heat and electromagnetic energy control in flexible, gap filling product designed to exhibit exceptionally low stress on solder joints. Thermal conductivity is optimized by material's natural tack on one side, which eliminates requirement for any thermally impeding adhesive layers and also facilitates component rework.
---
Original Press Release:

Henkel Develops First-Ever Extremely Low Stress Thermal Interface Material with EMI Absorption Capabilities



Henkel today announced that it has developed the market's first-ever extremely low stress thermal interface material that unites thermal conductivity with EMI absorption capabilities. The latest in its line of BERGQUIST GAP PAD products, Henkel's GAP PAD EMI 1.0 offers electronic specialists critical heat and electromagnetic energy control in a flexible, gap filling product designed to exhibit exceptionally low stress.



"Today's electronics devices are smaller and higher-functioning than ever before," explains Doug Dixon, Global Marketing Director for Henkel.  "In addition, widely recognized industry standards defined to control applications that use multiple frequencies dictate effective EMI and heat transfer management for end product acceptance and reliability.  These facts were the driving force behind the development of GAP PAD EMI 1.0."



GAP PAD thermal interface materials have long been recognized as the market's most effective gap filling thermal management products.  Now, these trusted materials take device protection one step further by integrating electromagnetic energy absorption functionality.  With thermal conductivity of 1.0 W/m-K and EMI absorption for frequencies above 1GHz, GAP PAD EMI 1.0 provides robust thermal management control and an added level of EMI protection.  GAP PAD EMI 1.0's improved wet-out at the interface results in thermal performance that is superior to other competitive materials with a similar rating.  Thermal conductivity is also enhanced by the material's natural tack on one side, which eliminates the requirement for any thermally-impeding adhesive layers and also makes component rework simple.  



Not only does GAP PAD EMI 1.0 technology offer superb thermal and EMI performance, but the material is the softest and most compliant on the market.  Its ability to conform to various topographies and provide a high degree of flexibility ensures exceptionally low stress on solder joints.  As compared to traditional EMI materials with high modulus, GAP PAD EMI 1.0 helps improve reliability by reducing in-field failures caused by solder joint stress and fractures. 



"The latest GAP PAD innovation has advantages for applications in multiple market sectors including power electronics, consumer, telecommunications, automotive and Wi-Fi/Bluetooth-enabled LEDs," says Dixon in summary.  "Its versatility and dual-function performance are unmatched."



Supplied in both sheet and die-cut formats, GAP PAD EMI 1.0 is available in various thicknesses and custom part sizes and can be applied manually or by automated placement.  For more information, visit www.henkel.com/electronics.



All marks used above are trademarks and/or registered trademarks of Henkel and its affiliates in the US and elsewhere.



Henkel in North America

Henkel markets a wide range of well-known consumer and industrial brands in North America, including Dial® soaps, Purex® laundry detergents, Right Guard® antiperspirants, got2b® hair gels, and Loctite® adhesives. Visit www.henkelna.com for more information.



About Henkel

Henkel operates worldwide with leading brands and technologies in three business areas:

Laundry & Home Care, Beauty Care and Adhesive Technologies. Founded in 1876, Henkel holds globally leading market positions both in the consumer and industrial businesses with well-known brands such as Persil, Schwarzkopf and Loctite. Henkel employs about 50,000 people and reported sales of $21.8 billion and adjusted operating profit of $3.4 billion in fiscal 2014. Henkel's preferred shares are listed in the German stock index DAX.



Contact

The Electronics Group of Henkel 

Doug Dixon   

Phone:  +1-714-368-8000

Fax:      +1-714-368-2265

doug.dixon@us.henkel.com

www.henkel.com/electronics

More from Software